New elevated road to be built along Yamuna to decongest Delhi's ring roads
The new road will be constructed between Signature Bridge near Wazirabad in north Delhi and Kalindi Kunj bypass in south Delhi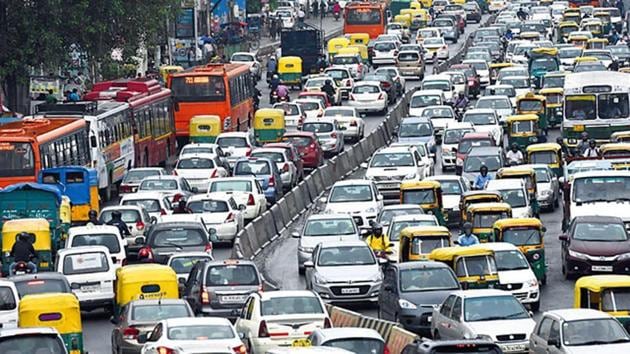 Updated on Jan 10, 2018 12:34 PM IST
To ease traffic on the two ring roads in Delhi, the government has directed its Public Works Department (PWD) to go ahead with its plan to build a 13-km elevated corridor that will run along the Yamuna.
The new road will be constructed between Signature Bridge near Wazirabad in north Delhi and Kalindi Kunj bypass in the south. Delhi PWD minister Satyendar Jain had first announced the project in December while inaugurating two loops at Mukundpur in north Delhi. The department will now conduct a feasibility study before a detailed project report is prepared.
PWD proposes to build the road parallel to the Outer Ring Road near Majnu Ka Tila and the Inner Ring Road near Sarai Kale Khan. Along the way, it will connect all eight bridges over the Yamuna - Signature bridge, Old Iron bridge, Geeta Colony, Vikas Marg, Nizamuddin bridge, Barapullah Phase-III that is under construction, Delhi Noida Direct (DND) flyway and Kalindi bypass.
"We had conducted a pre-feasibility study of the project a few months ago where we found that the proposal to construct an elevated road to decongest the ring roads is possible. PWD minister last month gave his nod to start work on the proposal," said a senior PWD official who did not wish to be named as he is not authorised to speak to the media said.
PWD's initial plan is to carry out the project in two phases. In the first phase, an elevated road will be constructed between Signature Bridge and Salimgarh Bypass (Ring Road bypass). In the next phase, this road will be extended to DND flyway and Kalindi Kunj bypass.
"The department will now appoint a consultant to conduct the feasibility study and prepare a detailed design plan of the project which will have information about all the possible loops, corridor's integration with other roads and bridges," the official said.
He further said that the consultant will also check if a double-decker road can be constructed to have a cycle track under the main corridor for vehicular traffic.
Delhi's Inner Ring Road, also simply called the Ring Road, is 55 kilometres long. The Outer Ring Road that encircles Delhi has a length of 47-kilometre and is largely signal-free.
"Delhi government aims to ease traffic on arterial roads in the city as traffic volume is increasing on the two ring roads. The estimated cost of the project is around Rs 2,200 crore. A completion date of the project will be decided after the feasibility study is conducted," the official said.
The officials said that after the feasibility study, the report will be submitted to Unified Traffic and Transportation Infrastructure (Planning & Engineering) Centre and other agencies for approval. Tenders for hiring the consultant will be floated by the end of this month.
Close Story