Greater Noida boy travelled to 5 states, broke down after killing mother, sister
Updated on Dec 10, 2017 04:21 PM IST
The 16-year-old teenager hooked to a violent video game killed his mother and sister at their apartment with a cricket bat and then disfigured their faces with a pair of scissors and a pizza cutter, police said.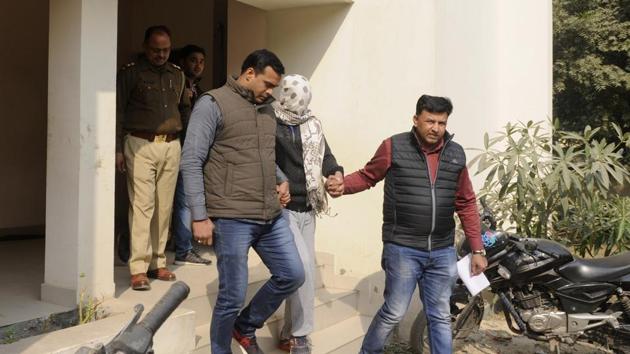 Noida
After killing his mother (42) and sister (11) in a high rise apartment in Greater Noida, a 16-year-old boy travelled to five states – Delhi, Punjab, Himachal Pradesh, Jharkhand, Uttar Pradesh — and Union Territory Chandigarh between December 4 and December 8, officials said.
He travelled in general compartment of trains without tickets. Investigators said he was mostly fed by co-passengers and sometime purchased food with the money that he had stolen from his home.
The boy said he was confused and would often get down from a train and board another without a destination in mind. He had left the house in Greater Noida around 11pm on December 4 after murdering his mother and sister.
Police said the boy reached Old Delhi railway station in a Ola cab and boarded a Jammu-bound train. He then got down at Ludhiana junction early on Tuesday. From Ludhiana, the boy went to Chandigarh and from there he boarded a bus to Shimla.
In Shimla, the boy a spent whole day at the ISBT, where he was spotted and questioned by a number of people about his whereabouts, said police.
On Tuesday evening, the boy returned to Chandigarh from where he booked a bus to Ludhiana. He reached Ludhiana early on Wednesday where he brought food for himself and then boarded a train to Ranchi. He reached Ranchi on Wednesday afternoon but did not leave the railway station. From Ranchi, he took a train to Mughalsarai, police added.
Senior superintendent of police, Gautam Budh Nagar, Love Kumar, said, "The boy stepped out of Mughalsarai railway station on Friday morning, where he made a call to his father from a passerby's phone. We called back on the number and the person told us that he was from Mughalsarai."
The police then contacted their counterparts in Mughalsarai and a search was launched. The passerby told police that the boy was last spotted headed towards a ghat (bank) in Varanasi. Five police vehicles were immediately dispatched to trace him. It took the police five hours to locate him from a ghat in Varanasi on Friday afternoon.
The police team from Greater Noida left for Varanasi around 1:30pm on Friday and took the custody of the boy in evening. The team returned to Greater Noida with the boy around midnight.
Investigators said the boy was crying on his trip back and expressed remorse for his crime.
At Greater Noida police station, the boy was given some food and allowed to sleep till 9am on Saturday. He was questioned in the morning by investigators, where he told them about the sequence of events.
The boy told the police that he had taken some cash from home but he did not know that the amount was Rs 2 lakh.
After reaching Shimla, the boy claimed, that he realised that his backpack was not with him. The boy's family was allowed to meet him on Saturday.
The father of the boy said, "Parents want to discipline their children so that they can excel in life. We could never have imagined that he would get o angry and do such a thing at being scolded."
On December 4, around 7.30 pm, the mother had taken the children to the nearby market from where they packed biryani and chips for dinner and returned around 8.19 pm as seen on CCTV. Later in the night, the three went to sleep in the same room.
Love Kumar said, the boy hadn't initially thought about killing his sister. But he was enraged and he was scared that his sister was a witness to the crime. So he killed her too with a blow to her head.
After the murders, the 16-year-old boy went to the kitchen and got a pair of scissors and a pizza cutter.
"He used the scissors and pizza cutter to disfigure the faces and also stabbed them in the neck. After ensuring both were dead, the boy changed his bloodstained clothes, locked the house from outside and fled," the police officer said.
Before leaving, the boy opened the bedroom locker and took out cash and left the jewellery intact. He left the Greater Noida West apartment complex around 11pm. From his 14th floor apartment he took the lift to the basement rather than the ground floor so that security guards don't see him leaving.
He also took his mother's mobile phone as he didn't have one.
Love Kumar said, the boy booked a cab through an app (OLA) using his mother's phone and went to Old Delhi railway station.