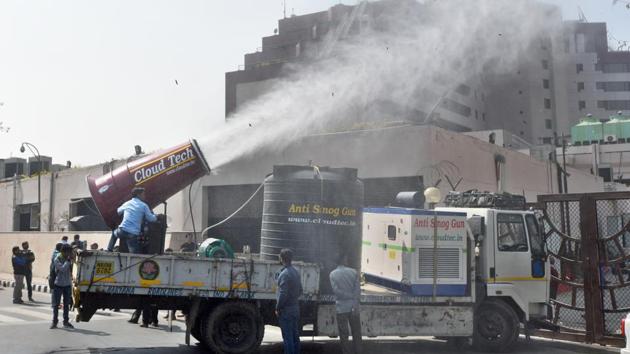 Now anti-smog gun for PWD roads in Delhi: Innovation or eyewash?
When the machine was used last time in December, the Central Pollution Control Board had given an adverse report about it.
UPDATED ON FEB 20, 2018 02:32 PM IST
As the Delhi government on Monday announced the deployment of an 'anti-smog' gun for major city roads, experts have already started raising questions about the effectiveness and timing of the exercise.
The device sprays atomised water (tiny droplets of water) up to a height of 50 metres, creating an artificial mist, which is expected to stick to air-borne pollutants and bring them down to the ground.
However, when one such device was tested at Anand Vihar in December, near a pollution monitoring station, it had little impact on air quality readings.
"The use of this anti-smog gun is expected to suppress air-borne particles and dust on road surface. It will operate on the PWD-maintained roads during non-peak hours, and its results or impact on reduction in air pollution will decide the future course of this campaign," said Delhi environment minister Imran Hussain, who flagged off the device at Delhi secretariat on Monday.
When the machine was used last time in December, the Central Pollution Control Board (CPCB) had given an adverse report about it. The pollution levels, instead of dipping, had spiked drastically even as gallons of water were sprayed throughout the day.
"This is a cosmetic measure. It won't help much. When it was done in Anand Vihar, there was little-to-no impact. How much area or air this machine can impact is a serious question," said Dipankar Saha, former air laboratory chief of the CPCB.
Anti-smog guns are usually used to control pollution in a small place such as a stadium. They can also be used in coal mines, cement factories and thermal power plants to control dust pollution. However, they are usually not considered suitable to bring down pollution levels in metropolises like Delhi which has multiple sources of pollution that contribute throughout the day, experts said.
The timing of this "experiment" is also under scanner as February is supposed to be one of the cleanest months of the year in Delhi.
"This can be one of the emergency measures when air quality reaches 'severe plus' levels. But we are putting it in place in one of the clean months. The focus should be measures on the ground like stopping garbage burning, controlling road and construction dust, and decongesting busy traffic points," Saha said.
The Delhi environment minister on Monday also said that the government is exploring various ways for the reduction of air pollution in the Capital.
"The use of anti-smog gun is one of such steps to assess its impact in reducing air pollution. The Delhi government will undertake trial of many more new technologies in its fight against pollution in the National Capital," Hussain said.
Earlier, on Friday, the government installed an "anti-pollution tower" under the Indraprastha Marg flyover, near ITO. This tower is fitted with exhaust fans to suck in polluted air. A machine inside the tower then removes nearly 90% of the particulate matter, helping to bring down pollution levels and spews fresh air out. If this pilot project is successful, more such machines would be installed.
Experts say such purifiers are known to work indoors and in a city like Delhi, where pollution levels are high, weather dynamic and sources of pollution multiple, these won't achieve the desired results.
Dilip Ganguly, assistant professor at Centre for Atmospheric Sciences in IIT-Delhi, said these measures are just eyewash. "There needs to be serious measures. We need to focus on larger sources like vehicular pollution and waste burning. These (anti-pollution tower and anti smog gun) won't work in Delhi. These are not efficient measures which can help the pollution situation," he said.
Close