PM Modi inaugurates Delhi Metro's Mundka-Bahadurgarh section on Green Line
Press Trust of India, New Delhi |
Press Trust of India
Jun 24, 2018 05:55 PM IST
The Delhi Metro network will now expand to 288 km with 208 stations
Prime Minister Narendra Modi on Sunday inaugurated the Delhi Metro's Mundka-Bahadurgarh section and said his government's priority is to build convenient, comfortable and affordable urban transport systems in cities.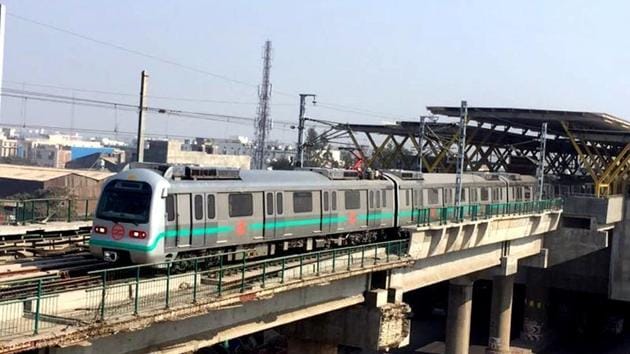 Inaugurating the latest section via video conference, he said there was a direct link between connectivity and development.
"Our government brought out a policy relating to metros. This is because we felt aspects relating to metro systems need greater coherence and work as per a basic set of standards," he said in his address.
Modi approved a proposal to set up a committee to lay down standards for metro rail systems in the country. The committee will be headed by E Sreedharan, also known as the "Metro Man", official sources said. A retired Indian Engineering Service officer, Sreedharan has served as the managing director of Delhi Metro from 1995 to 2012.
The Prime Minister also said the government wants to boost make in India by making coaches of the Metro in India itself.
"Several nations helped us in the making of the Delhi Metro and other Metros, and now, we are helping other nations by designing coaches for their Metro systems," Modi said.
He pointed out that the process of making Metro systems is also linked to cooperative federalism. "Wherever Metros are being built in India, the Centre and the respective state governments are working together," he said.
"New India requires new and smart infrastructure. We have worked on roads, railways, highways, airways, waterways and i-ways. There is unparalleled focus on connectivity and ensuring development projects are completed on time," the PM said.
Bahadurgarh, he said, is witnessing tremendous economic growth. There are several educational centres there, students from there even travel to Delhi.
"The Metro will bring convenience to this part, which is considered the gateway to Haryana ... We have seen how the Metro in Delhi has positively impacted the lives of citizens," Modi said.
The 11.2-km-long fully-elevated Mundka-Bahadurgarh corridor is part of the Delhi Metro's Green Line.
The Mundka-Bahadurgarh stretch, with seven stations, would be an extension of the existing Green Line (standard-gauge tracks) from Inderlok to Mundka.
Union Urban Development Minister Hardeep Puri and Haryana Chief Minister Manohar Lal Khattar attended the function in Bahadurgarh.
After the opening of this corridor, the entire Inderlok-Bahadurgarh section would become 26.33 km long.
The Delhi Metro network will now expand to 288 km with 208 stations.
This section will be metro's third line of connectivity to the neighbouring state of Haryana. Metro services are already operational in Gurgaon and Faridabad.
In Delhi, stations will be Mundka Industrial Area, Ghevra, Tikri Kalan and Tikri Border, while in Haryana, it will be Modern Industrial Estate, Bus Stand and City Park.