'Saffron terror' remark: BJP wants Shinde sacked, RSS calls him 'darling of terrorists'
Updated on Jan 21, 2013 07:58 PM IST
Stepping up its attack on Union home minister Sushilkumar Shinde over his remarks on 'Hindu terrorism' and 'saffron terrorism', the BJP today demanded his removal from the cabinet and an unconditional apology from Sonia Gandhi and Manmohan Singh.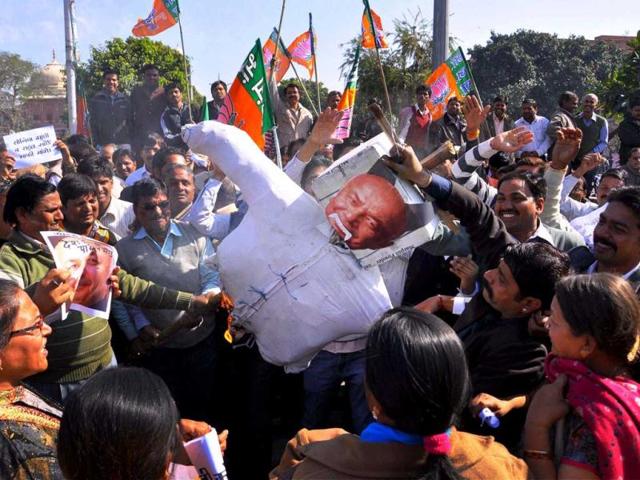 The BJP on Monday stepped up its attack on UPA over Home Minister Sushilkumar Shinde's charge that BJP and RSS promoted Hindu terror and demanded his sacking and also an unconditional apology from Congress chief Sonia Gandhi and Prime Minister Manmohan Singh.
The party also announced a nation-wide protest on January 24 against Shinde's remarks.
BJP chief spokesperson Ravi Shankar Prasad said "Sushilkumar Shinde must be sacked and the Prime Minister and Sonia Gandhi must tender an unconditional apology."
"BJP will not tolerate this repeated insult of Hindu and saffron traditions of India," he said, adding the party has never linked religion with terror as terrorists have no religion.
Terming Shinde has a "lightweight" home minister, Prasad said "he is a lightweight Home minister and is in the habit of speaking lightly. I condemn it strongly, very forcefully. It is a malicious, baseless comment made by a lightweight home minister who doesn't know what he is speaking about."
BJP leader Arun Jaitley also on Monday slammed Shinde for accusing it and RSS of running terror training camps and said he should either prove it or apologise.
"Shinde has to prove what he has said otherwise he has to withdraw the remark or apologise," Leader of the Opposition in Rajya Sabha Arun Jaitley told reporters in Siliguri.
"Congress which withdrew POTA has always been soft towards terrorists and terrorism instead of taking a hard stand,"
Jaitley said.
"That was why Shinde's hand was trembling to sign (the order) on the person who launched the attack on Parliament and whose death sentence was upheld by Supreme court," Jaitley said.
He said that the entire country knew that BJP and RSS were symbols of nationalism. "BJP is a party which always stood against terrorism," he said.
The BJP also said the home minister's comments will also help Pakistan which has always been in denial mode about flow of terrorism from its territory.
Questioning the home minister's intentions behind his comments of linking terror to Hindu organisations, the BJP leader said "saffron is the beacon of India's spiritual and religious heritage and holds a lot of importance in the independence of this country as saffron is also depicted on India's national flag.
"It is downright insult of India's spiritual, religious, cultural and civilisational heritage," he said, questioning if Sonia Gandhi is she approved of Shinde's remarks.
Prasad said why under Gandhi's stewardship the UPA government was "playing a joke with the feelings of Hindus".
"Why this is happening in your government, you being the senior-most leader of the party in power in the country? What is your reaction now? Does Congress approve of it?," he said.
Prasad said Shinde's statement could also have a serious and adverse affect on the government's relationship with the opposition in Parliament which had led to deadlock on many occasions in the past. Shinde is the leader of the House in Lok Sabha.
The BJP leader said Pakistan will use Shinde's remarks against India, especially at a time when the nation is angry over the beheading of an Indian soldier by Pakistani troops.
"But the way politics is being played, the happiest today would be Pakistan which has been playing an anti-India campaign," he said.
"They (Pakistan) will say: look at saffron Hindu terror what your home minister is talking about."
Prasad said his party has never been against initiating action against any kind of terror, be it Samjhauta Express or other cases accused.
He also said that despite evidence of many Muslims linked to terror activities in India, his party has never termed terrorism as "Muslim terror".
Even as he termed Shinde as a "lightweight", Prasad said the party took his comments seriously and reacted as he had spoken from the podium of Congress Chintan Baithak in the presence of the Prime Minister Manmohan Singh and Sonia Gandhi.
BJP also accused Congress of indulging in vote-bank politics, saying "these are copy-book cases on rank vote-bank politics on terrorism". He also questioned the delay by the government in deciding on the mercy plea of Afzal Guru and its alleged slow response on the issue of illegal immigration.

Shinde 'darling of terrorists': RSS
Terming as "unpardonable" Shinde linking it with "Hindu terrorism", the RSS on Monday alleged he had become a "darling of real terrorists" and was helping the country's "enemies" with such statements.
RSS also charged Shinde with politicising and communalising terrorist incidents in the country and wondered if his remarks were aimed at influencing investigations in the bomb blast cases.
"It is unpardonable. We take strong exception to it," RSS spokesperson Ram Madhav said.
He earlier tweeted, "Today Jamat ud Dawa etc congratulated Shinde. Now he has become d (sic) darling of real terrorists. It is Shinde who is helping our enemies by such statements. Now even LeT welcomed his statement I am told."
Madhav said, "the whole world has seen the consequence of this utterly careless and insensitive statement of the home minister calling Hindus as terrorists."
He said today the banned terrorist outfits like Lashkar-e-Taiba and Jamat ud Dawa have been complementing Shinde for his statement and wished he becomes home minister of the country where such organisations flourished.
"The minister and his party have a lot of explanation to do. The whole country has been greatly offended," Madhav said.
"It is very shocking that holding such a high constitutional position and trying to promote enmity between religious communities in a country by invoking such phrases as Hindu terrorism," he said.
The RSS spokesperson said the home minister's statement amounted to communalising terrorist incidents and politicising bomb blast investigations and influencing them.
"This is now utter politics. This is actually communalising terrorist incidents in the country...It is all politicising bomb blast investigations in the country. I believe that the (remark of the) home minister is actually intended to influence the investigations that are going on in the bomb blast cases," he said.
He also criticised Congressmen like Digvijay Singh and Mani Shankar Aiyar for supporting Shinde's remarks and said he was not surprised at their action "as they lend respect to terrorists and disrespect nationalists".
Personalise your news feed. Follow trending topics