South Delhi corporation to help Durga Puja committees dig artificial ponds for idol immersion
The decision to dig artificial ponds for idol immersion during Durga Puja in South Delhi was taken after a meeting of concerned officials.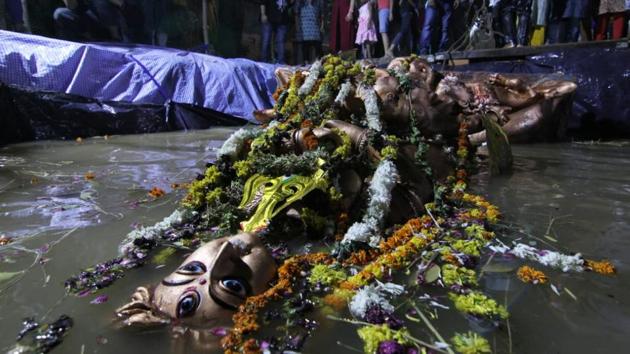 Updated on Oct 15, 2018 10:51 AM IST
Hindustan Times, New Delhi | By Vibha Sharma
The South Delhi Municipal Corporation (SDMC) has offered help to all Durga Puja committees in its jurisdiction for constructing 'artificial ponds' in their neighbourhood parks for idol immersions. The decision was taken on Friday after a meeting with the monitoring committee, formed by the National Green Tribunal (NGT), for cleaning of river Yamuna after idol immersions, said a senior SDMC official.
"During the meeting, members from the monitoring committee, Delhi Pollution Control Committee, officials from the Delhi government's revenue department, three municipal bodies and puja committees were present. They discussed the matter of water pollution due to immersion of idols at length," said a senior SDMC official who did not wish to be named.
"Since we are running short of time, as an immediate solution we have decided to contact Durga Committee organisers and urge them to go for eco-friendly immersion of idols this year," said Umesh Sachdeva, engineer in chief, of South Delhi Municipal Corporation.
The civic agency has also issued directions to the horticulture and engineering department to contact and help organisers.
The members of B Block CR Park Durga Puja Committee, which also participated in Friday's meeting, welcomed the move.
"We have been doing the immersion of idol in artificial ponds for the past three years. But there are committees who don't have infrastructure or funds to conduct this exercise. If they get support from the civic agency, then I am sure they will come forward to do immersions in an eco-friendly manner," said Ashim Banerjee, spokesperson of B Block Durga Puja Committee.
This year, 11 committees have obtained No Objection Certificate (NoC) from SDMC for setting up of Durga pandals in areas of south Delhi.
The civic agency will contact these organisers from Monday and offer to make all arrangements, including digging pits in their neighbourhood parks, filling it with water and filling up the pits after the immersion of idols.
Synthetic paint, clothes and other items used for decorating Durga idols are among the major reasons of river pollution, said a SDMC official.
"To resolve the problem, as a long term measure we have decided to make it mandatory for pandal organisers to take permission from the Delhi Pollution Control Committee from next year," said an official.
As of now, before setting up Puja Pandal in parks or streets, the organisers need permission from the municipal corporations, Delhi Police and fire department
Close Story