South Delhi's illegal alcohol hub now sells milk, vegetables after pledge
More than 50 alleged bootleggers in Sangam Vihar decided to start their lives afresh after being encouraged by the local police to quit selling illegal liquor and choose a legal business.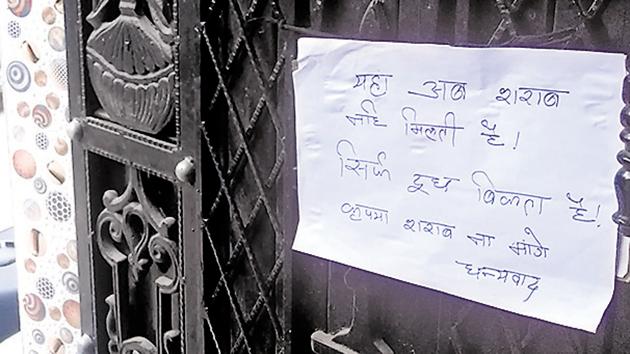 Updated on Aug 01, 2018 07:39 AM IST
Hindustan Times, New Delhi | By Shiv Sunny
Regular visitors to Heera Devi's home in south Delhi's Sangam Vihar were in for a surprise when they knocked on her door on Monday night. They were looking for country liquor, but the 43-year-old woman, a bootlegger in Delhi's biggest unauthorised colony, offered them milk packets instead.
A handwritten note pasted on the front gate of her house cleared the confusion. "Yahan ab sharaab nahi milti hai. Sirf doodh bikta hai. Kripya sharaab na maangein. (Alcohol is not sold here any more. Only milk is available Please don't ask for alcohol)," it said.
The change of heart and business was the result of a "pledge" that Heera Devi had taken earlier in the day. She was among 51 alleged bootleggers from the locality who were encouraged by the local police to quit selling illegal liquor and choose a legal business. Within 24 hours, most of them had put up similar notes outside their homes.
Three such women have started selling milk and cottage cheese. Some others are planning to sell vegetables, open grocery shops, or start tenthouse businesses. On Tuesday morning, Heera Devi's husband Braj Mohan left for his home town near Rajasthan's Bharatpur to check the feasibility of setting up an eatery there.
According to records in the Sangam Vihar police station, these 51 people are among the 56 most notorious bootleggers who operated in the neighbourhood, which has been a hub for bootlegging country liquor in the national Capital.
Of the 297 cases registered in the police station since January, 39 (13%) were under the Excise Act. During this period, the police arrested 42 alleged bootleggers and seized nearly 6,000 bottles of country liquor from them. Police said that most crimes under the jurisdiction of this police station were committed by people under the influence of alcohol.
Police said arrests were no deterrence for bootleggers. "They would be released in a few days and continue selling alcohol. Hardly anyone ever gets convicted under the Excise Act. If they do, they are let off with a scolding or a fine," said a senior police officer who asked not to be named.
Romil Baaniya, deputy commissioner of police (south), said the police decided to change tack and hit the bootleggers where it hurt -- clamping down on their businesses. "We actively began seizing their vehicles and booking them each time they were caught," said the DCP.
After the initial round of raids, the bootleggers started dealing with the police in new ways. "Women would start stripping. Men would physically harm themselves. Often, they would attack the police party with baseball bats and iron rods," said Upender Singh, the station house officer (SHO) at Sangam Vihar police station.
In response, the police started sending a minimum of 15 members in the team, with at least three police personnel recording the raids on video cameras. Anyone preventing the raids would be booked. Police said this demotivated the bootleggers.
"The money was not worth the legal trouble any more. For the last fortnight, we (bootleggers) were contemplating meeting the local police. On Monday, most of us landed at the police station," said Sultan Singh, 32, an alleged bootlegger with at least a dozen cases against him.
Twenty men and 34 women turned up for Monday's meeting at Sangam Vihar police station, with only two of the 56 known bootleggers refusing to participate. In a three-hour long interaction, the police urged them to give up bootlegging and take up alternate businesses instead.
"I began selling alcohol three years ago, after my husband, also a bootlegger, turned an alcoholic. We never saved enough to start a business, but we will borrow money to set up a grocery shop at home," said Savita Devi, a 35-year-old mother of six.
Heera Devi, who has constructed a four-storey house in the neighbourhood, says she is afraid that her 17-year-old son will take over the business and enter a life of crime. "Each time my husband gets arrested, it gets embarrassing for my two married daughters," she said.
Only three of the women who attended the meeting refused to give up bootlegging. By midnight on Monday, one of them, a 75-year-old, had been caught with four cartons of alcohol and booked by the police.
Close Story