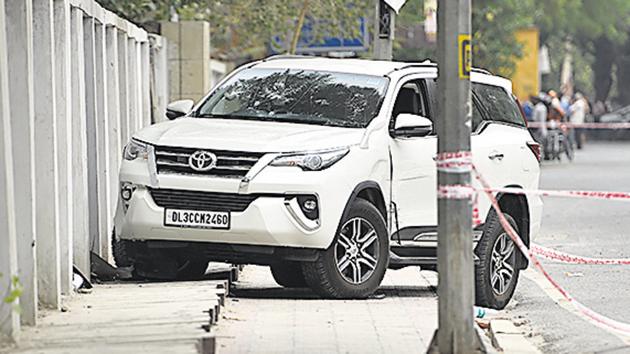 SUV theft: Dressed as locals, cops kept watch for 18 hours
The police team was divided into three groups and they posed as local residents and employees of eateries nearby while keeping a watch on the stolen Fortuner SUV.
Hindustan Times, New Delhi | By Karn Pratap Singh
UPDATED ON JUN 06, 2018 08:46 AM IST
Seven policemen from Mianwali Nagar and Vivek Vihar police stations braved the scorching heat and the blazing sun for almost 18 hours between Monday and Tuesday to keep an eye on a stolen Fortuner SUV that had been parked in east Delhi's Jhilmil Colony.
Dressed in plain clothes, the police personnel posed as local residents and employees of eateries nearby. The instructions from the police top brass were clear – they were not to leave the place till the thieves who parked the stolen SUV there were caught red handed.
The team's gruelling 18 hour wait finally paid rich dividends around 3am on Tuesday. They spotted three men who had come to take the stolen Fortuner SUV from the spot. The operation after that ended quickly, with one of the alleged thieves, Noor Mohammad, being shot dead, another accused, Ravi alias Kuldeep, being nabbed from the spot. A third suspect is on the run.
Noor, police said, allegedly attempted to run the SUV over the policemen. A senior officer, who had planned the operation said, "The policemen were instructed not to sit together at one place. None of them were given any safety gears or automatic weapons such as MP5, or AK-47 to tackle the criminals. Instead, they were asked to carry small firearms such as pistols and revolvers. They were instructed to hide their weapons and use it only in case of emergency."
Of the seven policemen, head constables Manoj and Jaswant and constables Virendra, Virender Kumar and Satpal, were from the Mianwali Nagar police station. Constables Devendra and Puneet were from Vivek Vihar police station, where the stolen car was parked since Monday morning.
It all began with a phone call on Monday morning. The station house officer of Mianwali Nagar police station informed his counterparts in Vivek Vihar about a Fortuner SUV that had been stolen from Mianwali Nagar and its GPS location was traced to Jhilmil Colony under Vivek Vihar police station.
"The beat staff was alerted and they found that the car was parked at the back of the ESI hospital. The vehicle's original number plate had been replaced with a fake one," said Nupur Prasad, deputy commissioner of police (Shahdara), adding a seven-member police team was deployed near the spot.
The seven policemen divided themselves into three groups and positioned themselves at different locations from where they could easily keep an eye on the SUV without getting noticed.
"They kept changing their location. If someone felt hungry or tired, he ate from the local restaurant and slept under a tree in the public park across the road," added the officer. Special commissioner of police (traffic) and chief spokesperson of the city police Dependra Pathak said the team showed exemplary courage in pulling off the operation. "It was one of the finest examples of professionalism and perseverance. Delhi Police is proud to have such staff ," Pathak said.
Meanwhile, police said Ravi's interrogation has revealed that he was part of an organised syndicate of auto-lifters that stole luxury cars according to demand. The stolen cars are disposed of in northeastern states such as Manipur and Nagaland.
Close