Toothless 'environment marshals' face the heat on the ground
Updated on Jan 09, 2018 12:11 PM IST
Marshals deployed in the seven municipal wards to help curb sources of air pollution, are facing problems like lack of power to issue challans, absence of an ID card and limited knowledge of air pollution.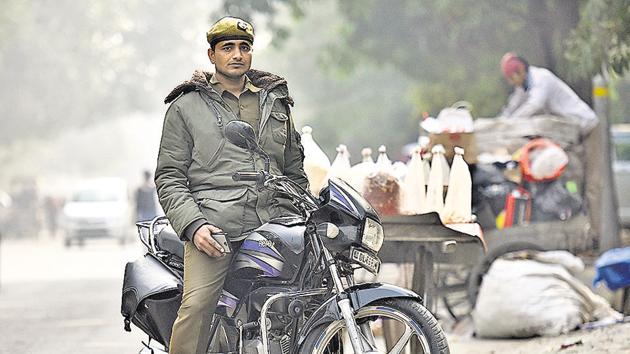 Deployed without any identity card to prove their new role, sans any powers to book violators and with just a few hours of training on pollution, Delhi's 'environment marshals' are facing a tough time on the ground.
The state environment department claimed to have deployed 14 home guards as marshals in seven municipal wards of three civic bodies. Plans are afoot to deploy 70 more.
A reality check by Hindustan Times, however, revealed that not all have reported on duty. Those present complained of frustration and subject to humiliation.
These marshals are seen as the replica of 'smog police' that was deployed in Beijing in January 2017 to tackle pollution. While the environment police squad of Beijing was empowered to detain suspects in serious environment-related cases, Delhi's marshals can only take pictures and inform their bosses hoping for some action to follow.
"We have been ordered to just observe and take pictures of open-garbage burning and uncovered building material lying at construction sites and inform our supervisors in the civic body and Delhi Pollution Control Committee (DPCC) along with details of the location, time and violator. We cannot issue a challan," said Rahul Kumar, an environment marshal deployed in IP Extension.
"Problems arise when we try to gather details of the violators or douse a flame when people have lighted a fire to keep themselves warm. At times, people are hostile and even insult or abuse us. We fear as we have to move alone in localities. We have not been provided with a lathi to protect ourselves," said another marshal.
Lack of ID card
HT witnessed one incident when the environment marshal deployed in IP Extension spotted a heap of uncovered sand near the gate of a society and then tried to enter it to investigate. But, he was asked a volley of questions by the housing's secretary: "Who are you? What is an environment marshal? Why do you want me to know my name? Show me your ID card or any document that you are a marshal. Do whatever you feel like, issue a challan, but not in my name."
The marshal could neither produce any identity card nor any document to prove that he was an environment marshal. He could only produce the identity card of a home guard.
"This is one of the main problems we are facing on the field. Since most people are unaware of what an environment marshal is, we have not been provided any identity card. We have a home guard identity card and a letter from DPCC saying that home guards are being deployed as environment marshals without naming any of the home guards. This does not suffice," said a marshal.
HT contacted some of the state environment department officials but they refused to divulge any details. While the special secretary SM Ali refused to comment, the environment secretary Anil Kumar Singh did not respond to any calls or messages.
"It is a welcome move but it should be done in a proper manner. You may not give them power to take any action against violators but at least they should have proper identity cards and documents. Uniforms can also help. It would also help the citizens to find them if they want to lodge any complaint," said Ravi Agarwal, director of NGO Toxics Link.
In Kolkata 'Green Police' personnel have proper uniform and receive proper training from the city police and the civic body before they are deployed. "They are appointed by the city police and double up as civic volunteers apart from flagging pollution," said Debasis Kumar member-mayor-in-council (parks and gardens) of Kolkata Municipal Corporation.
Limited knowledge
As part of training, the Delhi marshals received a briefing for around three hours, in which they were told what to look for and what action to take. Hence, they have limited knowledge on pollution, its sources and how they affect humans and the city's air. "We were not told anything on various sources of pollution, how each source and pollutant is different from the other and how do they affect us. Sometimes when we try to stop violators, they confront us with questions which we cannot answer. I am a commerce graduate and read about pollution only in newspapers," said one of the marshals.
Missing marshals
Their woes do not end here. These home guards were earlier deployed in local police stations. But they claim that the local police stations were not informed about their new role.
"The SHO of the police station where I was deployed has no idea about my deployment. Hence every day I have to go to the police station – once in the morning and once in the afternoon – to register my attendance"
When HT spoke to a senior officer of the Mansarovar Park police station, where one of the home guards was deployed before being roped in to serve as an environment marshal, the officer said that he is not aware of such role.
Sources said that because of this confusion not all the home guards, who were deployed as marshals, have joined duty. "Only one environment marshal has joined in our ward. The other one never turned up. He never contacted me," said Devender Sharma, assistant sanitary inspector of a ward in IP Extension.
Sometimes the marshals who hail from poor families are caught up between humanity and pollution. "When it comes to construction material lying uncovered we instantly take photos and send them to our superiors for taking action. But when I see poor street dwellers burning leaves and twigs to keep them warm and have to douse the fire because of the orders we really feel bad. But we are duty-bound," said Pitam Singh a marshal deployed in Anand Vihar area.
Some of the environment marshals said that they felt like returning to their original duty at the police station where they are mostly given desk work. In the field at least, they assist the cops and have little to fear.
Personalise your news feed. Follow trending topics