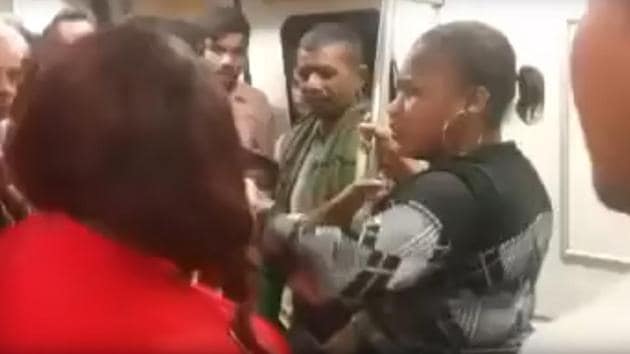 African woman stripping video unverified, says Delhi Metro, no complaint yet
In viral video, woman is seen taking off her clothes after what appears to be a dispute over a seat
UPDATED ON MAY 26, 2017 03:43 PM IST
Days after an unverified video of an African woman stripping inside a metro train in the capital went viral, the Delhi Metro Rail Corporation (DMRC) said it could not prove the authenticity of the clip.
Metro officials told HT that neither they nor the Delhi police have received any complaint about the incident till date. Besides, it is even unknown when and where the incident occurred.
"DMRC has not received any complaint on this issue, which seems to have been sorted out among the passengers. Minor scuffles inside the metro during peak hours or even otherwise should not be blown out of proportion as the metro is crowded and even a gentle push or pull can trigger the fuse of a few commuters," a metro official said.
In the video, two African women are seen arguing with a group of commuters in a metro coach in Delhi following what appears to be a dispute over seats. One of the women gets so irritated that she starts taking off her clothes — saying 'you want to fight, let's fight'. While the men are taken by surprise and step back, another man intervenes to calm her down and defuse the situation.
The man is heard saying, "Please calm down, nobody is trying to fight anybody". This calms the two women down and the one who took off her clothes and wore it again later is later heard telling him, "Thank you, brother."
"The two women, and even the man who was seen arguing, later dispersed. No one complained or anything. However, in case any issue is brought to our notice the DMRC takes appropriate action," metro officials added.
Close