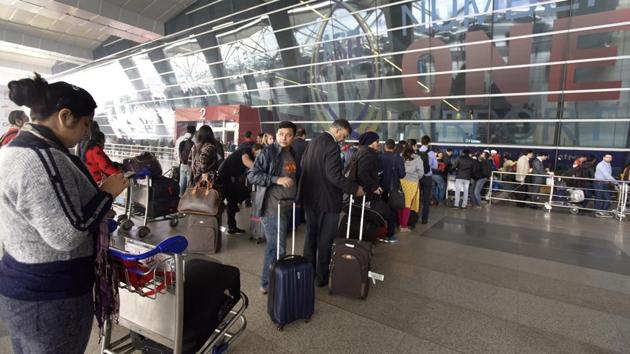 Cabin baggage loses tag but last-minute checks add to wait time
The initiative meant to save time may not reap benefits as the airlines resort to pre-boarding baggage check
Hindustan Times | By Faizan Haider
, New Delhi
UPDATED ON DEC 20, 2016 08:35 PM IST
The decision to do away with stamping of baggage tags at airports may not save commuters any time as the airlines are now checking luggage at the boarding gate.
The Central Industrial Security Force (CISF), in charge of airport security, had started a week-long trial to allow domestic travellers to fly without putting tags on their cabin bags.
These trials are being run at Delhi, Mumbai, Kolkata, Chennai, Hyderabad and Bengaluru airports and the force aimed to save 10 minutes of a passenger's time. But it asked the airlines to randomly check cabin bags before passengers board the plane.
"What is the point of removing the baggage tag if you are going to check my baggage again before boarding the plane. There was a long queue at the boarding gate as the airline was checking every baggage," said a passenger travelling from the Delhi airport.
The initiative is likely to be made permanent and extended to other airports. The CISF, however, said that baggage checking by airline is a part of the extensive search that is carried out when threat perception is high.
"We ask airline to scan passenger's baggage whenever the threat perception is high. During the trial run also, we have asked the airlines to randomly check passenger's baggage. This will not cause any inconvenience," D-G CISF OP Singh said.
The airlines are asked to conduct Secondary Ladder Point Checking (SLPC) whenever there is a specific threat to airport. SLPC is conducted when the threat is at its highest level and passengers have to go through with complete frisking just before entering the aircraft.
Presently only a few airlines, especially those going to US, conduct SLPC. The airlines staff have been asked to conduct SLPC, either at aerobridge or at the apron area.
During the trial run from December 15-21, security check area will be monitored through CCTV cameras to ensure no passenger can skip the mandatory check. The CISF staff at the boarding gates has been asked not to check for a baggage tag. The decision was taken after the D-G met representatives of all the airlines last week.
"We discussed enhancing coordination among agencies and making the process of security check friendly for travellers. The CISF also emphasized on building a sound security information sharing network among the staff employed/hired by various operators to achieve a real-time information flow. This information sharing mechanism will add teeth to our security matrix," Singh said.
Close