Pollution up, AAP to hold on-the-spot lung tests in Delhi
The newest battleground in Delhi's fight against foul air is people's lungs.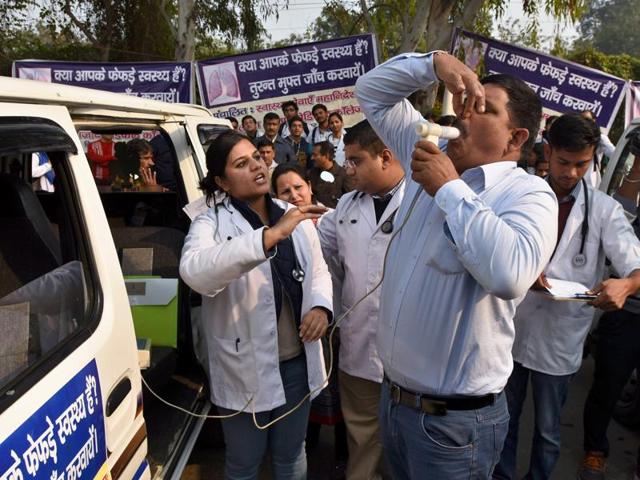 Updated on Jan 02, 2016 03:23 PM IST
Hindustan Times | By HT Correspondents
, New Delhi
The newest battleground in Delhi's fight against foul air is people's lungs.
The Delhi health ministry on Friday decided to conduct on-the-spot lung function tests on people to monitor the impact of air pollution in the Capital, the deadliest in the world according to WHO figures.
The city government in collaboration with Maulana Azad Medical College (MAMC) will depute 10 mobile vans equipped with digital spirometers — an instrument to test a person's lungs — along with two doctors, a technician, two nursing oderlies and two volunteers at select locations.
"We have seen media reports that air pollution is affecting the lungs of people in the city. So we decided to see what percentage of people have unhealthy lungs. The data gathered over 15 days will help us form policies and issue health advisories," health minister Satyendar Jain said.
The spirometer measures the volume and speed of air inhaled and exhaled by a person. If the test result is above 80%, the lungs are considered okay. Anything below 70%, depending on the person's medical history, is a case for a visit to a pulmonologist.
"If a person's lung function is not normal, he or she should consult a doctor and take bronchodilator medicines or inhalers," said Dr Suneela Garg at MAMC.
The vans will be stationed at Rajiv Chowk Metro station, ITO, Nehru Place market, Jama Masjid, Vikas Marg, ISBT Anand Vihar, ISBT Kashmere Gate, Kamla Nagar market, Dilli Haat and Shadipur depot from 9am to 5pm.
The experiment is likely to compliment the licence plate-based odd-even traffic management system that kicked in on New Year's Day for a 15-day trial run to clean up the air — especially reduce deadly car exhaust fumes.
Almost half of Delhi's cars were garaged but celebratory fireworks the night before, traffic snarls in the afternoon and a dip in the temperature blew away the gains on Day One of the road rationing regime.
Scientists said around 15% reduction in PM2.5 — a fine, sticky dust that affects the lungs the most — was recorded between 8am and 2pm and this could be linked to the traffic restriction.
"The drop in PM 2.5 was perhaps because of less emission and vehicular dust. Compared with data from the past two days, when weather conditions were similar, air quality was much better till 2pm. But the quality deteriorated rapidly and breached levels that were observed in the past two days. This needs to be analysed," said Gurfan Beig, who heads the SAFAR air quality index of the ministry of earth sciences.
Close Story