CBSE Class 10 results: Mumbai's top students now eye admission to IITs
Hindustan Times |
, Mumbai
Puja Pednekar & Musab Qazi
Jun 03, 2017 03:42 PM IST
Mumbai city news: The Chennai region, which includes Maharashtra, recorded a pass percentage of 99.62%
Class 10 Central Board of Secondary Education (CBSE) student Mridula Subramanyam achieved one of the highest scores in the exam — 99.6%. A student of Apeejay School in Nerul, Subramanyam secured 100 on 100 in Math, English, and Social Studies.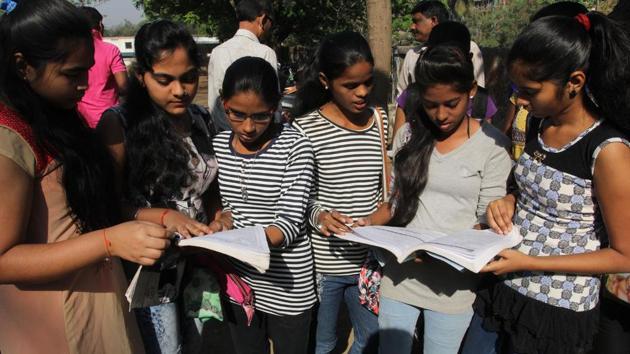 She is just one of many students hoping to bag a seat in the Indian Institutes of Technology (IITs), after the Class 10 CBSE results were announced on Saturday.
Apeejay student Vaibhavi Tapade scored 99.2%, with a 100 on 100 in Sanskrit. As many as 44 of of the school's 200 students securing more than 95%, a first for the institute. "We are overwhelmed. These are the best results we have had in a long time," said Rakesh Joshi, principal.
Class 10 student Janhavi Bhange topped St Joseph's School with 98.8%. Her classmate Abhishek Kurup scored 97.6%. Neither attended coaching classes prior to the exam. "I was expecting to score more than 95%, so I'm happy. I plan to pursue engineering, and hope to secure admission to an IIT, preferably in Mumbai," said Kurup.
Bhange wants to be a doctor. "I have to start preparing for the entrance exams now," she said.
The Chennai region, which includes Maharashtra, recorded a pass percentage of 99.62%, a tad lower than last year's 99. 68%. The region came second to Trivandrum, which recorded a pass percentage of 99.85%. Delhi region finished last, with only 78.09% of exam takers passing.
The board converts students' marks into grades. Results indicated that many Mumbai students secured a 10 on 10 cumulative grade point average (CGPA).
Sheth Karamshi Kanji English School student Aayush Shah scored 99.4%. His classmate Neer Sevla scored 99.2%. Both have CGPAs of 10. "I wasn't expecting such a high score," said Aayush, who wants to pursue engineering from IITs. He added that he studied from the school textbooks and referred to notes he prepared during lectures. "I didn't do anything extraordinary to prepare for the exams," he said.
After the poor CBSE Class 12 results announced last week, Mumbai schools were dreading the Class 10 results. "It was evident that the board took corrective measures to prevent inflation of marks in the Class 12 exams, if the same was done for Class 10, it would have brought scores down," said Avnita Bir, principal, RN Podar School, Santacruz.
With more Indian Certificate of Secondary Education (ICSE) students scoring more than 90%, there was a lot of pressure on CBSE students. "Students from all boards will be in the same pool for Class 11 admissions, so we hope there is a uniform marking policy," said Bir.