Bombay HC orders special NEET exam for 2 students after invigilators goofed up
Updated on Oct 21, 2021 09:47 PM IST
Two Solapur students who were given the wrong answer sheet for the NEET exam on 12 September will get a second chance. The Bombay high court ordered NTA to conduct the examination again for these two students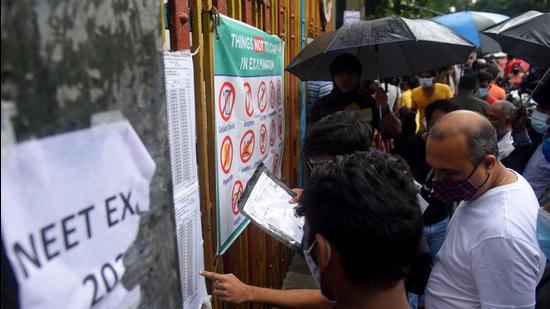 MUMBAI: The Bombay high court (HC) on Wednesday directed the National Testing Agency (NTA) to conduct the National Eligibility-cum-Entrance Test (NEET) afresh for two medical aspirants – Vaishnavi Bhopale and Abhishek Kapse – from Solapur district as they had received mismatching test booklets and answer sheets due to inadvertence of the invigilators.
The division bench of justice RD Dhanuka and justice Abhay Ahuja directed NTA to give the aspirants an advance notice of 48 hours about the date of the retest and the exam centre and to declare the petitioners results in two weeks.
Bhopale and Kapse had moved HC on September 24 through advocate Pooja Thorat, seeking directions to NTA to re-examine them by holding a separate test. They stated that when they had appeared for NEET at Shree Swami Narayan Gurukul International School at Solapur on September 12, their invigilators started giving test booklets and answer sheets to the 12 students in their class five minutes late. They added that the invigilators mixed up the booklets and sheets. While Bhopale received a test booklet of Code 04 and answer sheet of Code P4, Kapse got test booklet of Code P4 and answer sheet of Code 04. They immediately pointed it out, but the invigilators harshly silenced them by threatening them with dire consequences for causing nuisance and disturbance in the examination hall, said their petition.
Even thereafter, the petitioners said, they tried to reason out with the examiners to provide them matching booklets and sheets by pointing out that it would result in complete non-evaluation of their answer papers. They added that the invigilators checked codes appearing on all the booklets given to all the students, but did not rectify the mistake.
Their counsel, advocate Pooja Thorat, pointed out that clause 7 of the Test Booklet Code for NEET mandates the invigilator to rectify the mistake and provide correct test booklet and answer sheet to the student concerned in such a situation. She also pointed out that subsequently, the school and its principal admitted the mix-up in his communication with NTA officials, stating that it was an inadvertent mistake and called upon the testing agency to help the two students.
NTA, however, informed HC through its counsel advocate Rui Rodrigues that it was unable to find a solution to the petitioner's problem, prompting HC to order a re-examination of the petitioners.