These kids admitted under RTE outshine fellow students of private school in annual exam
Published on Mar 19, 2019 04:45 PM IST
Four students clear Class 1 exams with flying colours, but parents can't afford uniform and stationery for these kids.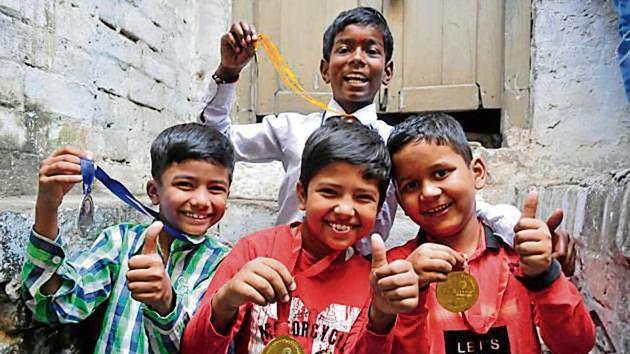 Ali Ahmad, Krishna Rajput, Abdullah and Saksham Saini -- these four kids have many things in common. They belong to the economically weaker section (EWS), go to the same private unaided school and are beneficiaries of Right to Education Act.
All of them got through their annual examinations with flying colours and secured first, second and third ranks in their classes giving tough competition to general category students.
Saksham, 7, stood first in Class 1 annual examination at Pioneer Montessori School (PMS), Rajendra Nagar branch. He scored 97.41% and aspires to become a fighter pilot.
His father, Sudhir Saini, is a flower decorator and studied till Class 8 and mother Madhu is a High School pass. Sudhir earns ₹6,000 per month and lives in a rented house in Aminabad.
The poor couple's biggest worry is – how will they afford school uniform and stationery for their son. "It will cost at least ₹5,000 and we don't have that much money. The school is giving free education but the state government's annual financial support to meet this expenditure is nowhere in sight," said Saksham's parent.
During the previous government's tenure, ₹5,000 was given to parents of underprivileged kids as lump sum amount for books, stationery and uniforms.
Two brothers, Ali Ahmad, 8 and Abdullah, 7, have also done their parents proud by getting Rank 1 and 2 respectively in another section of Class 1 at PMS. Abdullah wants to become a scientist so that he can work for the country's development and eradicate poverty. Their father, Javed Ahmad, did MA in sociology from Lucknow University and works as a help at an electrical shop in Naka Hindola. The boys' mother Tanveer Fatima is a graduate from Allahabad University and a housewife. They live in a rented house of Bashiratganj area.
This family also stares at a financial problem. It will be difficult for them to buy stationery and uniform for the kids. "We are really worried about our children's future. They are good in studies but we do not have resources to address their requirements," said Javed.
Another underprivileged child, Krishna Rajput, 8, stood third in Class 1 examination at Pioneer Montessori School. He wants to join the armed forces. His mother, Babli Rajput, has never been to school while father Dilip Rajput is a Class 3 dropout. Their daughter Shefali Rajput, a Class 8 student helps her brother in school work.
RTE activist Samina Bano, CEO of RightWalk Foundation helped the parents enrol these four kids to Pioneer Montessori School under RTE.
Shipra, who works with Bano, said these children have sent a huge message to the rest of the underprivileged children that they too can do well in academics by putting in hard work.
"There has been a steady rise in RTE admissions -- from 54 in 2014 to nearly 4,000 in 2015, around 17,200 in 2016, about 28,000 in 2017 to as many as 42,000 in 2018," said Bano.
"These are the brightest stars of our school. Their raw talent is being polished by our teachers with the support of the principal and management. The kids' parents are supportive and try to give a good environment to them," said Sharmila Singh, owner of Pioneer Montessori School.
Personalise your news feed. Follow trending topics