[
Chhattisgrah Assembly Election Results 2018
]
Updated on Dec 15, 2018 07:58 PM IST
The Congress is likely to announce the new chief minister of Chhattisgarh on Sunday after a legislature party meeting, party leaders said. Congress president Rahul Gandhi on Friday and Saturday met four senior leaders of the state unit of the party — Bhupesh Baghel, TS Singh Deo, Tamradhwaj Sahu and Charan Das Mahant — and held discussions with them, a spokesperson said.Here are the HIGHLIGHTS:
Conceding defeat on Tuesday, Chhattisgarh's three-time chief minister Raman Singh said he takes full responsibility for the BJP's defeat in the assembly elections and will analyse the reasons behind the rout.Speaking to the media after the results were declared, Singh said he has forwarded his resignation to the governor.Catch all the live updates of assembly elections, click here.Singh became a chief minister on December 7, 15 years ago, and no other BJP CM has served for so long. Narendra Modi had an uninterrupted 4,610 days as Gujarat chief minister before becoming Prime Minister in May 2014. Singh, who completed 5,000 days in August, is the only BJP CM after Modi to have won three assembly elections in a row.Catch all the live updates of Chhattisgarh election results, click here.Chhattisgarh was the only state where voting was held in two phases: the first in 18 seats spread across eight Maoist-affected districts on November 12 and the then in 72 constituencies spread across 19 districts on November 20. Counting of votes began at 8 am today.: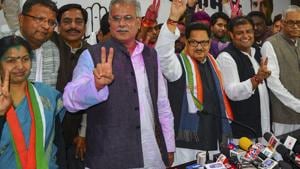 Updated on Dec 13, 2018 12:09 PM IST
Polling was held Tuesday for 72 assembly constituencies as part of the second and last phase of elections in Chhattisgarh. The first phase of elections in 18 Maoist-affected assembly constituencies was held on November 12 amid tight security and sporadic incidents of violence.Eight Maoists were killed and five jawans of the Commando Battalion for Resolute Action (CoBRA) were injured in two separate encounters during the first phase of polling. Election officials recorded more than 70% turnout on November 12. For more on Chhattisgarh assembly elections 2018, click here.The BJP, which has been ruling the state for 15 years, and the Congress have been traditional rivals in Chhattisgarh. This time, however, former chief minister Ajit Jogi's newly floated outfit Janata Congress Chhattisgarh and Mayawati's BSP have joined hands, turning the elections into a three-cornered fight.Reach highlights here:-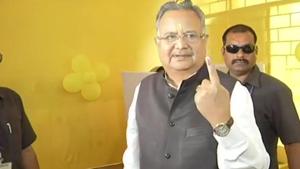 Updated on Nov 20, 2018 09:49 PM IST
Polling for the first phase of Chhattisgarh assembly elections took place on Monday with Election Commission stating that around 70% voter turnout was recorded. Eighteen seats spread across eight Maoist-affected districts went to polls in the state. The ruling Bharatiya Janata Party (BJP) is eyeing a fourth straight term in the tribal-dominated state as the opposition Congress seeks to return to power after 15 years.At least six Maoists were reported to be killed in two encounters with security personnel in Bijapur and Sukma districts.Here are the highlights: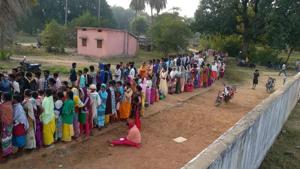 Updated on Nov 12, 2018 10:20 PM IST
BJP president Amit Shah and Congress chief Rahul Gandhi held rallies in poll-bound Chhattisgarh Saturday. Chhattisgarh goes to polls in two phases, on November 12 and 20. While the northern part of Chhattisgarh, mostly the Maoist-affected districts, will vote in the first phase, the rest of the state will go to polls in the second phase.Prime Minister Narendra Modi addressed a rally at Jagdalpur on Friday. At his campaign rally, Modi hit out at the Congress for being soft on urban Maoist, a term coined for left-wing intellectuals who sympathise with Maoists. He accused the Congress of describing Maoists as "revolutionary" and of ruining the lives of tribals.Highlights: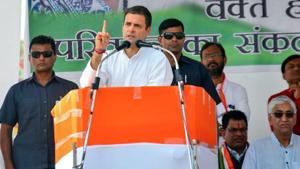 Updated on Nov 10, 2018 09:22 PM IST
Prime Minister Narendra Modi and Congress president Rahul Gandhi are scheduled to address election meetings on Friday in Maoist infested Bastar region of poll-bound Chhattisgarh. The Congress president has already arrived in the state. Assembly polls will be held in Chhattisgarh in two phases on Monday and November 20. In the first phase, 18 constituencies of eight Maoist-hit districts Bastar, Kanker, Sukma, Bijapur, Dantewada, Narayanpur, Kondagaon and Rajnandgaon will go to polls and the remaining 72 constituencies on November 20. The counting will be on December 11.PM Modi will address a rally in Bastar district's headquarters, Jagdalpur, while Gandhi will tour the state for two days during which he will address five rallies and hold a road show in chief minister Raman Singh's constituency, Rajnandgaon.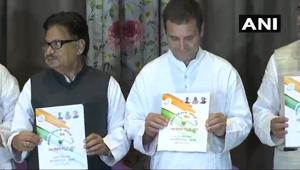 Updated on Nov 10, 2018 12:13 AM IST
Among the 77 candidates announced out of a total of 90 assembly segments in Chattisgarh, 14 are women candidates and 14 sitting MLAs have been replaced with new names, Union health minister J P Nadda said.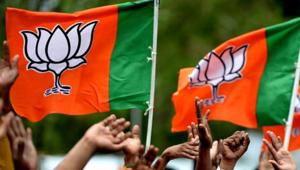 Updated on Nov 02, 2018 02:24 PM IST
Hindustan Times, Raipur/Hyderabad |
HT Correspondents