Aamir Khan says Bhuvan in Lagaan shouldn't have been clean-shaven: 'Yahan paani nahi hai and this guy shaves everyday'
Published on Aug 09, 2022 02:37 PM IST
Aamir Khan has said in a recent interaction that his look in hit 2001 film Lagaan 'did not make sense' to him and was something he wanted to change.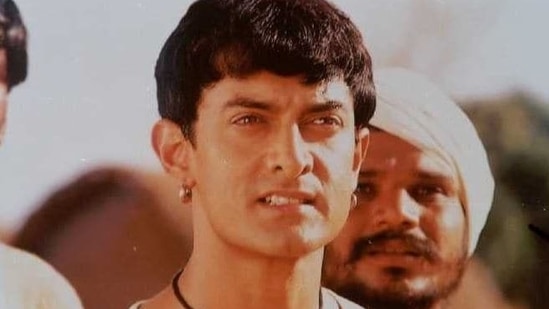 Lagaan is one of Aamir Khan's most successful and memorable films. Not only did it achieve success at the box office, it also became only the third Indian film ever to bag an Oscar nomination. Many call it one of Aamir's best films ever. However, there are aspects of the film that Aamir himself doesn't like. In a recent interaction, Aamir revealed that he did not want his character Bhuvan to be clean-shaven in the film, and for a rather practical reason. Also read: Aamir Khan hosts Lagaan reunion at his home as film completes 21 years
Directed by Ashutosh Gowariker, Lagaan, which released in 2001, also starred Gracy Singh and British actors Paul Blackthorne and Rachel Shelley. The film, set in colonial India, saw a group of villagers in a drought-hit village challenge the British to a cricket match in order to waive off the land taxes on them. Aamir played Bhuvan, the villager who led the challenge and captained their team.
In a recent interview with IMDB, Aamir said that the drought setting meant it made no sense for his character to waste water on shaving. Talking about how he would make Lagaan different if he were to remake it, Aamir said, "I would really insist again to Ashutosh that the character of Bhuvan cannot be shaving. I insisted to him. I said yahaan paani nahi hai (there is no water here). It's not been raining here. They are suffering and this guy shaves every day. He has got some secret water supply."
However, director Ashutosh did not entertain Aamir's suggestion even back then, the actor revealed. "But somehow, Ashutosh wanted to see me look a particular way and he liked me clean-shaven and insisted on that. But that didn't make sense to me. So, if I were to do Lagaan again, I would insist to the director that this time, let's go with the growth."
Made on a budget of ₹25 crore, Lagaan made close to ₹66 crore and was one of the highest-grossing films in the year of its release. Aamir will be next seen in Laal Singh Chaddha, the official Hindi remake of the Oscar-winning 1994 film Forrest Gump. Directed by Advait Chandan, Laal Singh Chaddha also stars Kareena Kapoor, Mona Singh, and Naga Chaitanya, and releases on August 11.
Topics
Personalise your news feed. Follow trending topics