BellBottom movie review: Akshay Kumar brings an edge-of-the-seat thriller, Lara Dutta and Vaani Kapoor impress
Updated on Aug 19, 2021 02:32 PM IST
BellBottom movie review: Akshay Kumar makes a strong case for bringing the audiences back to the theatres in Ranjit M Tewari's spy thriller.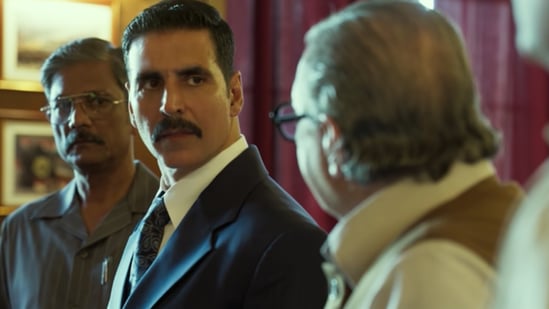 Just like the well-tailored suits that Akshay Kumar has worn in BellBottom, his role as an R&AW agent is also tailor-made for him. Gritty, determined, suave and stylish, while keeping up with the retro look and charm of the 80s, Akshay is stunning in this espionage thriller.
BellBottom is the first film to release on the big screen after theatres reopened post the second wave of coronavirus pandemic. The actor was sure the film has what it takes to revive the cinema business: a heady blend of emotions, action, entertainment, drama and stunning visuals. BellBottom, directed by Ranjit M Tewari, is an edge of the seat thriller with several nail biting moments.
Watch BellBottom trailer:
Based on or inspired by true events, BellBottom is the third such film--after Shershaah and Bhuj: The Pride of India-- to release over just week. And BellBottom only takes it a notch higher with its well-researched script, effective screenplay and impactful storytelling without an iota of jingoism that tends to leave a bad taste for most movie lovers.
Inspired from real life hijackings that shook the country in the 1980s, the film narrates the episode of Indian Airlines flight ICC 691 that takes off from Delhi and is overtaken by four terrorists on August 24, 1984. This was our fifth plane hijacking in seven years and then Prime Minister, Indira Gandhi (played by Lara Dutta) has had enough.
While she plans to let the Pakistani government negotiate with the hijackers (as the plane has landed in Lahore), under-cover RAW agent, Anshul Malhotra (played by Akshay Kumar), code-named BellBottom, has a different plan in place. He wants to not only rescue 210 passengers but also capture the hijackers. How the team carries out India's first covert mission, gives BellBottom its main plot.
Tewari's direction is well thought of and does not lose focus, and so is Rajiv Ravi's cinematography that captures the cities, be it London or Duba, beautifully.
Also read: Shershaah review: Sidharth Malhotra plays Vikram Batra with saintly sincerity in Amazon's simplistic war drama
Aseem Arrora and Parveez Sheikh's screenplay is crisp, but the heavyweight dialogues or punch lines never arrive. Even with its 2.05 hours runtime, the first half takes its sweet time to build up to the meatier part.
Pre interval, is mostly light and easy and there are even few amusing moments between Anshul and his mother Raavi (played by Dolly Ahluwalia). But, switch to the second half and the film picks momentum. Especially the last 40 minutes of the film and the climax, are brilliantly shot with VFX that doesn't look shoddy.
Among more consistent things in the film is the performance of each actor. Lara Dutta's look as former PM Indira Gandhi has got everyone talking since the trailer was released. She is terrific in the role, be it her mannerisms, body language, dialogue delivery and how confidently she pulls off playing one of the most iconic political leaders of the country.
Also read: Bhuj movie review: Ajay Devgn's chest-thumping, gunpowder-snorting film fights Radhe for worst of the year crown
Vaani Kapoor is charming as Akshay's onscreen wife, and for a change, I'm glad that in a film mainly about R&AW agents and male politicians, she isn't there just as a trophy wife but complements his character well. Talking of women, more was expected of Huma Qureshi's character, but she somehow doesn't leave any impact. She's appears post interval and in just a handful of scenes.
Then there's Adil Hussain as another R&AW officer, who lends optimum support to the script. There is a very subtle camaraderie between him and Akshay, which also lend the film a tinge of humour. Zain Khan Durrani, as the merciless hijacker, reminds you of Jim Sarbh from Neerja.
The music of the film also leaves an impact. From Marjaawaan to Sakhiyan 2.0 and finally Tum Aaogey, there's a song for every mood.
One thing that could leave you scratching your heads is perhaps Anshul's appointment at R&AW, and the story behind it. Not giving any spoiler here, but it does make you wonder how easy it is to get into one of the country's premium intelligence agency.
BellBottom
Director: Ranjit M Tewari
Cast: Akshay Kumar, Lara Dutta, Vaani Kapoor, Adil Hussain, Huma Qureshi