Kesariya lyricist Amitabh Bhattacharya calls 'flak' on love storiyaan unexpected: Itna hungama kyu macha?
Published on Aug 09, 2022 12:11 PM IST
Amitabh Bhattacharya, who penned the lyrics of the Brahmastra song Kesariya, has spoken about receiving flak from the audience on the words, 'love storiyaan'.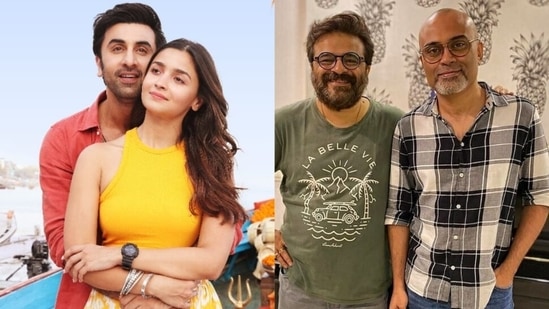 Lyricist Amitabh Bhattacharya has opened up about his song Kesariya in Brahmastra and a section of the people criticising a part of the lyrics comprising the words, 'love storiyaan'. In a new interview, Amitabh said that the 'flak' and its magnitude surprised him as it was unexpected. He also added that Kesariya lyrics were written quite a long time ago, and the team aimed for a Hinglish word as the 'characters belong to this generation'. Amitabh said the team of the song 'still like it that way'. (Also Read | Twitter cringes over 'love storiyaan' line in Brahmastra's Kesariya song)
After the song's release last month, a section of people on Twitter reacted by calling the words out of place and odd. The song has been sung by Arijit Singh, composed by Pritam with lyrics by Amitabh. A person wrote, "A small piece of elaichi (cardamom) can ruin the entire biryani (a rice dish)." A Twitter user also posted photos of different moods of the character Jethalal from the show Taarak Mehta Ka Ooltah Chashmah to express their contrasting feelings. The lyrics discussed at length on social media platforms are, "Kaajal ki, siyaahi se likhi, hain tu ne jaane, kitnon ki love storiyaan (don't know how many love stories you have written with ink made of kohl)." The song has been filmed on lead actors Ranbir Kapoor and Alia Bhatt.
Speaking with Film Companion, Amitabh said, "The interesting part is that I came to know after almost 24 hours... Of all the words why is it (flak) coming on Love Storiyaan. It was unexpected. Earlier too, it has happened in my career that there were objections in some songs with respect to the thoughts, connotations or phrases. But here, it was very unexpected to draw flak on the phrase, Love Storiyaan. Also the magnitude of the flak, so much debate and chaos. Hashtags and memes were being made which I really enjoyed because for the first time people took out the time to create hashtags and memes on me."
He also added, "It's not like we wrote Love Storiyaan the previous night and released it the next morning. We lived with it for quite a while, more than a year. That's the way we wanted it. It's a modern film and not a mythological film. The characters belong to this generation. So, in their lingo, there can be a twist for a Hinglish word, we aimed for that. And, we still like it that way. People have their own take. Just like when a song is appreciated and becomes popular, we do not ask, 'Why me?' So, now when you are being criticised, you should take it sportingly and that's what we are doing...Is gaane pe I was also surprised ki usi ek shabd pe itna hungama kyu macha (I was surprised why so much chaos ensued on that one particular word in the entire song)?"
Helmed by Ayan Mukerji, Brahmastra also features Amitabh Bachchan, Mouni Roy and Nagarjuna. The film is set to hit theatres on September 9.
Personalise your news feed. Follow trending topics