Rajkumar Santoshi says his film Gandhi Godse Ek Yudh 'sympathises with both Gandhi and Godse'
Published on Jan 12, 2023 01:07 PM IST
Filmmaker Rajkumar Santoshi explains why he wanted to show both sides in his upcoming Hindi film Gandhi Godse: Ek Yudh. The period drama explores what would have happened if Mahatma Gandhi had lived after the assassination attempt by Nathuram Godse.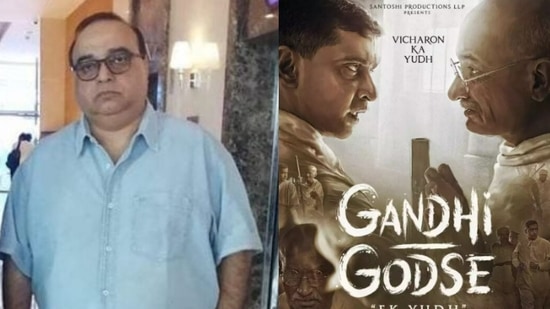 Rajkumar Santoshi's next film looks at an alternate version of Indian history where Mahatma Gandhi survives the assassination attempt by Nathuram Godse and later, once he recovers goes to meet the man who wanted him dead. The Hindi film Gandhi Godse: Ek Yudh will release on January 26, Republic Day, ahead of his 75th death anniversary on January 30. The filmmaker's last release was a decade ago with the Shahid Kapoor-starrer Phata Poster Nikhla Hero in 2013. (Also read: Gandhi Godse Ek Yudh trailer: Film imagines a world in which Mahatma Gandhi survives attack by Nathuram Godse. Watch)
Gandhi Godse: Ek Yudh doesn't feature any big stars. Actor Chinmay Mandlekar plays Nathuram Godse while Deepak Antani plays Mahatma Gandhi. Rajkumar revealed that, for this film, he consciously stayed away from 'stars' whom he had worked with in the past and instead chose actors who could embody the parts. Marathi actor Chinmay and Gujarati actor Deepak fit the bill for the feature.
In an interview with Mid-Day, the filmmaker spoke about the period drama which imagines the possible conversations between Gandhi and Godse. He explained why he wanted to show both sides, "I sympathise with both Gandhi and Godse. As much credit as Gandhi got, he also faced allegations. To date, people ask why he couldn't be more assertive about saving Bhagat Singh from the death sentence. Similarly, during his trial after killing Gandhi, Godse gave a statement in court, which was curbed for decades. Until recently, no one knew what he had said. I feel that was unjust to him. People should know what he had to say in his defence."
He went on to add, "The idea behind this film is to give a platform to Godse to express his viewpoint, and also to Gandhi to respond to the allegations. We are presenting both sides without being partial to anyone." The filmmaker also insisted that he was not siding with any ideology, but wanted to make the film "with honesty".
The upcoming film, which releases a day after the Shah Rukh Khan-starrer Pathaan, will introduce his daughter Tanisha Santoshi in a key role as well. Actor Anuj Saini is also making his debut with the film. Produced by Manila Santoshi, Gandhi Godse: Ek Yudh features music by AR Rahman.