Mahatma Gandhi's great-grandson Tushar Gandhi reacts to Gandhi Godse: I'm not surprised because for them Godse is a hero
Jan 16, 2023 04:29 PM IST
Mahatma Gandhi's great-grandson Tushar Gandhi made it clear recently that he doesn't intend to watch a film which glorifies 'murderers.' He said it while referring to Rajkumar Santoshi's upcoming, Gandhi Godse-Ek Yudh.
Mahatma Gandhi's great-grandson Tushar Gandhi recently reacted to filmmaker Rajkumar Santoshi's upcoming period drama, Gandhi Godse-Ek Yudh. The film is based on an alternate version of Indian history where Mahatma Gandhi survives the assassination attempt by Nathuram Godse and later, goes to meet him in prison. Talking about the film, Tushar said he isn't surprised by the attempt. He also said he doesn't intend to watch a film, which 'glorify murderers.' Also read: Gandhi Godse Ek Yudh trailer: Film imagines a world in which Mahatma Gandhi survives attack by Nathuram Godse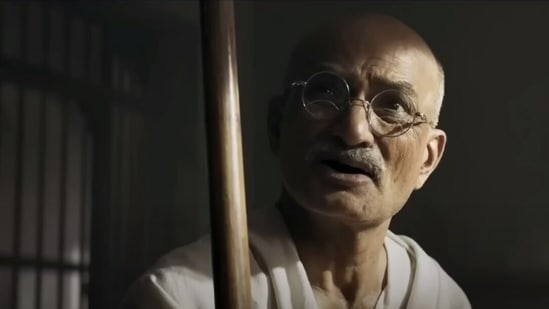 Set in early post-independence India of 1947-48, Gandhi Godse-Ek Yudh will focus on the ideological war between Nathuram Godse and Mahatma Gandhi. The film is set to portray Godse's side of the argument, revealing his reasons for shooting Gandhi in 1948. The trailer of the film offered a glimpse of the two's eventful meeting.
Talking about the film, Tushar Gandhi was quoted by ANI saying, "I'm not surprised because for them Godse is a hero, and if they portray him as a hero, it should not surprise any of us. But I cannot comment on the merits or the demerits of the film because I haven't seen it and I don't intend to see films which glorify murderers."
"It is a very well thought out game plan and all these characters have been given the role to perform and they performed the role according to their queues and their timelines. The same director portrayed Baapu in a very wrong manner in his film Bhagat Singh, so it's not surprising that he would make a film glorifying Godse," he added.
Rajkumar Santoshi, in a previous interview, said that his film has a very different take on Gandhi. So much so that he was scared about the censor (board). He said he feared that the censor may not pass the film altogether. But, they did not cut a single word, as per him.
Gandhi Godse: Ek Yudh will release on January 26, on the occasion of Republic Day, ahead of his 75th death anniversary on January 30. The music of the film is composed by AR Rahman, which has been produced by Manila Santoshi. The film will clash with Shah Rukh Khan's Pathaan at the box office, which will release on January 25.
(With inputs from ANI)