Uorfi Javed told Javed Akhtar jokingly: 'Hope you know apke jaydad ke teen hisse honge'
Jan 09, 2023 01:57 PM IST
After she met Javed Akhtar, Uorfi Javed has now jokingly said that she has warned the lyricist-poet that his property will be divided into three.
Uorfi Javed, who recently met lyricist Javed Akhtar, has said that she has warned him that his property will be divided into three. People often assume that she is related to Javed, and with her latest statement, she cracked a joke about the same. (Also read: Javed Akhtar urges Michelle Obama to join the White House)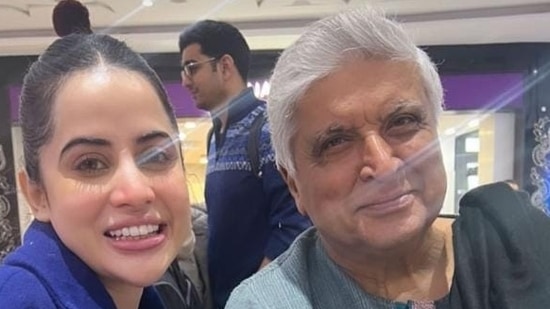 In a video shared online by a paparazzo account, Uorfi was asked if Javed accompanied her and she told reporters, "Hmm, mere saath hi the, meri flight me the wo, Humne bahut si baatein ki. Bahut acche hain wo (Yes, we were on the same flight. We chatted a lot, and he is a very nice person)."
She then said jokingly, "Maine bol diya unhein 'aapko pata hai na mai aapki poti hun. Aapke jaydaad ke teen hisse hone wale hain (I told him 'hope you know that I am your grand daughter, and your property will be divided between the three of us)." Javed already has two granddaughters - Farhan Akhtar' and his ex-wife Adhuna's daughters Shakya Akhtar and Akira Akhtar.
Uorfi and Javed met in a flight when she came visited Delhi to attend a fashion show. Sharing her photo with him on Instagram, Uorfi joked that she 'finally met her grandfather'. "Finally met my grandfather today. Also he is a legend, right in the morning so many people lined up for selfies, but he did not refuse anyone, chatted with everyone with a smile. He was so warm! I am in awe," she wrote in her Instagram Stories post.
Over the past few years, Uorfi has often been mistaken as Javed's granddaughter. Responding to the claims, Uorfi had told Times of India in 2021, "People have cooked up stories just because my entire name is Urfi Javed. But he was never associated with me in any way. All this is just done to troll him and put his name down by associating my outfit controversy with him. But how is that even relevant? Even if his own granddaughter wears anything of her choice what's wrong with that? Why is he being held responsible for that?"
Later, Javed's wife Shabana Azmi clarified that Javed and Uorfi are not related. Once, Uorfi even wore a tshirt with the message 'Not Javed Akhtar's granddaughter'.
Topics