BTS: Permission to Dance stops playing during music video shoot; here's what Suga, Jin and V did next. Watch
BTS released a new video on YouTube that showed the making of their track Permission to Dance. RM, Jin, Suga, J-Hope, Jimin, V, and Jungkook released the track earlier this month.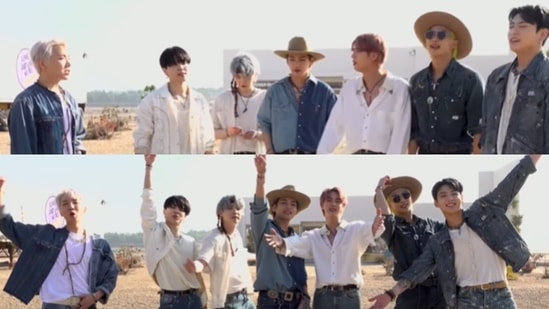 Published on Jul 18, 2021 04:43 PM IST
BTS released a video featuring the making of their new song Permission to Dance. The song was released earlier this month to celebrate ARMY Day, a day dedicated to their fans. While the video channels a hopeful vibe, BTS members RM, Jin, Suga, J-Hope, Jimin, V, and Jungkook revealed all that they went through during the making the music video.
In the video, released on their YouTube channel, Bangtan TV, the BTS members took fans behind-the-scenes of the song. One section of the video featured BTS leader RM trying to fan himself as they shot in the hot summers, later, V was seen choreographing a segment of the music video. The BTS video also gave a glimpse of the numerous spins Jungkook had to take to get the perfect shot.
However, no one anticipated that the audio would fail during the filming. The video revealed that when BTS members were shooting the final portion of Permission to Dance, the song suddenly stopped playing. While Suga stopped in his tracks, the frame focused on V and Jin, who continued to keep the energy high and followed the routine in silence. Soon, the other members and the background dancers joined in.
Also read: Step inside BTS leader RM's new studio at HYBE building that replicates his cool and modern vibe
Permission to Dance received love as BTS members incorporated the use of sign language. BTS members had o about using sign language while they reacted to the music video. J-Hope had said, "The use of sign language is also very significant."
Close Story