BTS Yet to Come first reactions are in: Fans say 'bring tissues, there is a plot twist'
Feb 01, 2023 07:09 PM IST
BTS: Yet to Come released in theatres on Wednesday. Here's how fans have reacted after watching it.
BTS fans have reacted to the group's concert movie, BTS: Yet to Come, which witnessed a theatrical release on Wednesday. After watching Yet to Come, BTS ARMY has asked others to take tissues with them as 'there is a plot twist'. Taking to Twitter, a fan wrote, "So there will be a plot twist on the YTC. Goosebumps and I'm holding my heart. Hugging all the ARMYs, Love you!!" A person tweeted, "Armys who will watch ytc later, tomorrow or on the coming days, please bring tissues.. there's a plot twist." (Also Read | Jin bags first place at military talent show, gets vacation as reward: reports)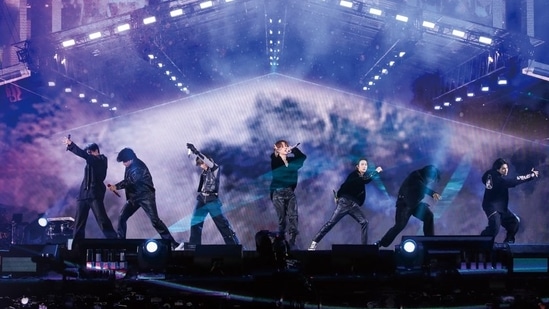 BTS fans who didn't watch the film also expressed concern and asked about the 'plot twist'. "Don't know about that plot twist some of you are tweeting about, but for me, a plot twist for a concert we've already watched would be them announcing tour dates, which we all can agree is impossible at the moment, right?" wrote a Twitter user.
"What type of plot twist is there !!! Can't wait to see myself but hopefully no one gonna ruin it before that," said another person. "The whole fandom is getting scared right now what is happening is there a plot twist or not? Just spill the tea right now. Don't create chaos for no reason I get scared of everything now after that festa. It's always, expect the unexpected," read a comment.
Spoiler alert: After many fans asked about the 'plot twist', a few BTS ARMY revealed that it was 'extra focus' on Jin. Fans were left emotional at this since as currently Jin is serving in the South Korean military. A person tweeted, "It's a slow-mo focus on Seokjin as he's speaking before For Youth! There's a video of it but I didn't wanna link in case I spoiled it for anyone."
"For the anxious people, the speeches are edited into a montage so it's even more emotional and ofc there's an extra focus on Jin," read a comment. "I'm sobbing I'm not ready for this nooo Seokjin speech at yet to come concert in Busan," said a Twitter user. On December 13, 2022, Jin formally reported for duty.
Earlier, PVR Pictures announced that BTS: Yet to Come will have a limited release in India from Wednesday. The movie will be screened in cinemas from February 1-4, news agency PTI cited distributor. Fans will witness BTS members--RM, Jin, Suga, J-hope, Jimin, V, and Jungkook on the big screen, as they perform to crowd favourites tracks such as Dynamite, Butter and IDOL among others.
The film will also feature the first concert performance of Run BTS from the group's latest album Proof. The movie will give an immersive sneak peek into the BTS: Yet To Come concert in Busan and feature never-seen-before visuals along with some up-close and personal snippets of the group.