Fancy Dance review: Lily Gladstone is sublime in well-crafted tale on resilience
Jan 26, 2023 07:43 PM IST
HT at Sundance | Fancy Dance review: In Erica Tremblay's directorial debut, the subtext of disappearance of indigenous people establishes the need for healing and resilience within a community.
There's a gentle power in Fancy Dance, the feature film debut of director Erica Tremblay that premiered at U.S. Dramatic Section at the Sundance Film Festival. In many ways, I was reminded of Debra Granik's Winter's Bone, another Sundance breakout award-winner that powered through Jennifer Lawrence's turn. Here in Fancy Dance, Tremblay brings in actor Lily Gladstone, who has slowly but assuredly become one of those actors whom one can always trust. She was great in Kelly Reichardt's Certain Women, and all eyes will be on her next with Leonardo DiCaprio in Martin Scorsese's Killers of the Flower Moon. But here in Fancy Dance, she is some sort of a miracle. Her grasp over the wavelength of her character is held with control and compassion. (Also read: The Disappearance of Shere Hite review: Who says a woman cannot talk about sex?)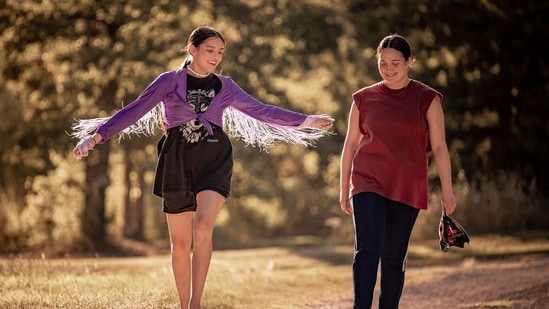 Gladstone stars as Jax, who lives with her niece Roki (Isabel Deroy-Olson, a genuine revelation) around the Seneca-Cayuga Reservation in Oklahoma. In the first scene, Jax proceeds to undress in front of a fisherman while Roki steals his car keys. It surreptitiously establishes a wordless communication between these two women who have adapted to these tricks to survive. Jax is concerned about her missing sister Tawi and shows a poster to anyone she can find around the place who can help locate her. Sometimes it leads her to trouble, but Jax is determined that if the local police, led by the kind but meek cop JJ (Ryan Begay), is not going to do anything about her sister, she might as well do it in her own way.
In the meantime Roki believes that her mother is going to show up in the upcoming yearly powwow, and quietly focuses on her dance performance. Trouble arises when welfare authorities show up and transfer Roki to her grandparents, under the care of Frank (Shea Whigham) and his wife Nancy (Audrey Wasilewski). Why? Jax's history with criminal records are reason enough that she cannot be the guardian for Roki.
Even as the narrative takes clear-cut dives, Tremblay who co-wrote the screenplay with Miciana Alise, keep the scenes free from any thematic underpinning. Yet, Fancy Dance never misses an opportunity to quietly underline the far-reaching effects of surviving in a marginalized community in everyday occurrences. Where the disappearance of women from their land has become obvious. The dialogue, often in the Cayuga language, is sparse but becomes a key balance to Jax and Roki's shared communion. In one scene, Roki interrupts the conversation on the dinner table to talk to Jax about the powwow in Cayuga, in front of her grandparents, mainly because they don't know it. Fancy Dance is as much a film about resilience and healing as it is about the language in which one chooses to find them.
In some places, Fancy Dance comes close to numerous films that are built around the same template. Yet, in Erica Tremblay's assured direction, the film never ruminates over one episode for long and remains quietly observant yet always moving ahead in its very own rhythm. The last scene, pinned mostly as a reaction shot on Gladstone's sincere face, is exact in its emotional transparency. The effect is tremendously moving. Gladstone is note-perfect as the woman whose resilience is tested time and again, whereas Deroy-Olson provides her solid support. Together, their scenes are the heart of this unforgettable little film that must not be missed.