A discussion on fighting fashion fakes
Aug 02, 2016 07:18 PM IST
A recent talk in Delhi highlighted the issue of plagiarism in fashion, the need for copyright and more.
We've all seen a fake lipstick print or mirrorwork designs do the rounds from Shanker Market to Sarojini — making it clear that counterfeiting and selling imitation goods is rampant when it comes to fashion in India. Discussing the need for awareness and action, a recent discussion involving fashion designer JJ Valaya, copyright lawyer Safir R Anand and fashion editor Nonita Kalra threw some light on Intellectual Property law in the country, challenges, application and more.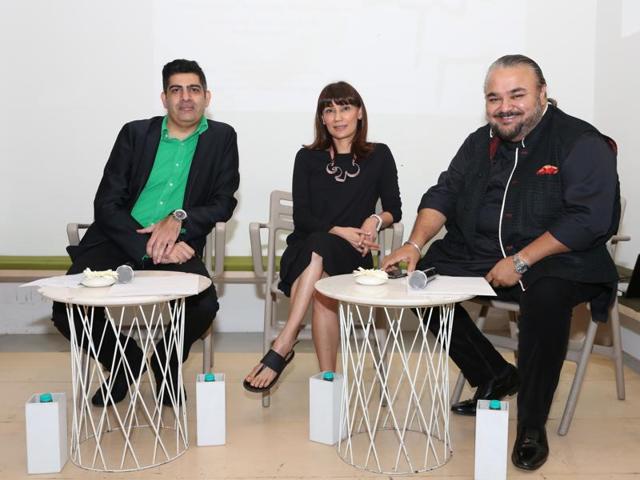 What exactly is counterfeiting and why is it a menace in India?
Counterfeiting is the replication of work where a product which is identical to that of another brand is created and put up for sale. Copyrighting a product can help the artist to protect his work. "Our country has struggled in protecting intellectual property when it comes to fashion, this is also because many new launches, products are not documented," Anand explained. "The shopkeeper has to have a deterrence in his mind before selling a fake, which can only be created if he has the fear of action being taken against him," he added.
Read: Kangana and all the regal awesomeness from the last day of couture week
Need for a quality check?
For Valaya, regulation is vital when it comes to fashion education. "There's no dearth of talent in India, but we need an 'edit'. We have over 25 fashion institutes, 30 fashion weeks across India, and a trend of churning out fashion designers. These are young kids who have popular brands as their first reference. I think they lack guidance, so the first step to keeping the originality intact in fashion is by the tool of editing," Valaya explained. "Also, in the future we need a separate Market Week that is purely for business, so there's no time for anyone to replicate what they see on runway even before it has hit the racks," he added.
How do we protect ourselves from fakes?
As a buyer, we need to be vigilant. As Valaya explained, the easiest way to avoid buying fakes is by visiting listed stores. Designer list out where they sell from, and the customer must only buy from these places. An educated client is as important as a responsible seller.