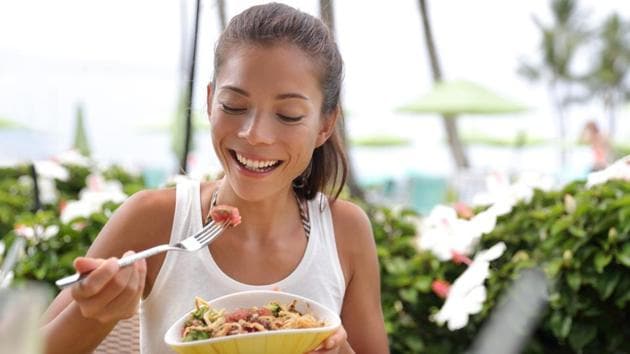 Diet to delay menopause, eat fish and fresh legumes, avoid pasta and rice
A healthy diet which includes oily fish and fresh legumes will help you delay menopause, suggests a study. If you eat lot of refined white pasta and rice, the study confirms, will cause an early start of menopause.
UPDATED ON MAY 01, 2018 03:31 PM IST
When will I start menopause? It's a question a lot of women worry about, especially if you're over 40. While a lot of factors -- age, mother's history, BMI -- determine when the process of menopause will eventually start for you, diet also plays an important role.
According to a recent study by researchers at the University of Leeds, links have been found between diet and the onset of menopause in British women. The study showed that high intake of healthy foods, such as oily fish and fresh legumes, such as peas and green beans were associated with a later onset of the menopause, while a high consumption of refined white pasta and rice was associated with an earlier start.
Analysis of their diet showed that high intakes of oily fish were associated with a delayed start to menopause by nearly three years. A diet with lots of refined pasta and rice showed that menopause was more likely to occur one and a half years earlier than average. Study co-author, Janet Cade, said: "The age at which menopause begins can have serious health implications for some women."
Previous studies have suggested that earlier onset of menopause is associated with lower bone density, osteoporosis and increased risk of cardiovascular diseases. While later menopause has been associated with a higher risk of breast, ovarian and endometrial cancers.
Other factors
Studies have shown that factors such as the mother's age at menopause, the age at menarche, gestational age, use of oral contraceptives, irregular menstrual cycle, number of pregnancies, body mass index, use of tobacco and alcohol, physical activity, unilateral oophorectomy, serum lead levels, consumption of polyunsaturated fat, socioeconomic status and educational level can also affect the timing of menopause.
Menopause brings with it a host of pesky conditions such as mood swings, hormonal imbalance, weight gain, fatigue. It is important for women to understand how their body is going to change with menopause. And if diet plays an important role in delaying the process, then women should take advantage of this. "A clear understanding of how diet affects the start of natural menopause will be very beneficial to those who may already be at risk or have a family history of certain complications related to menopause," said Cade.
Here's what to eat and avoid
Women are likely to gain weight during menopause, thus it is important to avoid trans fat, sugar, refined carbs in your diet. Also cut down on caffeine in order to get enough of your beauty sleep. Spicy food should be avoided as it may aggravate hot flashes, a common symptom of menopause.
According to Janvi Chitalia, fitness nutritionist and wellness director, Body Cocoon, "High sugar intake causes an immediate mood elevating effect, and they are one of the highest causes for fatigue and mood changes and fluctuations, after sugar levels drop. It is advised to therefore have a sustained release of sugar through eating complex carbohydrates such as jowar, bajra, millet and barley and avoid maida and rice."
Menopause can also cause loss of bone density. "Women should increase their intake of calcium rich food such as ragi, green leafy vegetables, fruits such as banana, low fat dairy," she adds.
Follow @htlifeandstyle for more
Close