Frozen foods, always keep these 6 foods in the freezer to reap their health benefits
Aug 08, 2018 09:02 AM IST
Frozen foods: Too busy to meal prep and plan? Here are the best foods to freeze in advance and use them through the week.
Is there anything better than a fully stocked refrigerator with the freshest fruits and vegetables, and a meal plan to get through the week? But that could be wishful thinking when we lead such busy lives. The reality is quite different from this picture perfect imagery.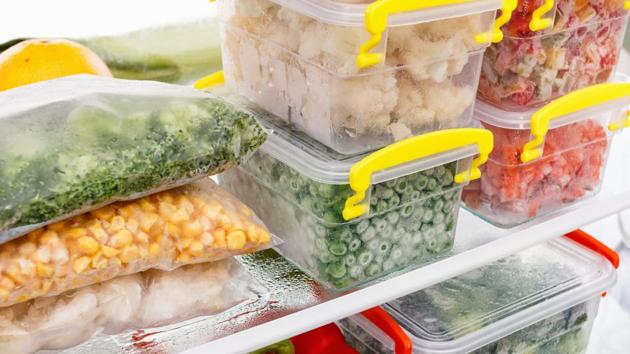 So, to make your life a tad bit easy, we've put together a list of foods that you must stock in your freezer for some quick fix meals.
Avocado pulp or guacamole
This one's a blessing for avocado lovers. "Mash the avocado with a fork and a few drops of lime. Store it in a bag or a container or smaller bags for one-time use. Enjoy the benefits of Vitamin-C, good fats, and anti-inflammatory properties in this nutrient rich fruit anytime. Use it for Mexican bowls or as a dip," says Payal Kothari, integrative nutritionist and life coach.
Frozen fish
No, we're not talking about the frozen fish fingers to be fried. There's a whole range of frozen fish available – salmon and barramundi – that can be quickly grilled or steamed for easy dinner.
Homemade stock
Stocks can be used in many ways to add flavour to stir fry and soups. It's best to stay away from packaged stock as it is loaded with salt. Make your own batch and freeze it to be used later.
Also read: 5 of the best detox foods for cleansing and weight loss
Coconut wedges
"Many recipes require coconut, so for everyday use freezing coconut wedges is a great time saving idea. Crack the coconut from the equator, drink the water from it and scrape out the coconut flesh or meat to make wedges and freeze. This could be used in salads, dips or as shavings on top of savoury dishes," says Kothari. These wedges can be used to make smoothie bowls or can be used as toppings.
Frozen berries
Packed with nutrients, frozen berries are a great addition to your freezer. Kothari suggests, "Wash the berries, pat dry and freeze in a tray for a couple of days. This keeps the berries loose and firm. Later pack the frozen berries in zip locks or containers."
Vegetables
Cut up veggies and store them in small bags to be used for curries, salads, pulaos and more. Worried if it will be nutritious? The nutrient quality of frozen veggies is negatively affected when overcooked. But you can lightly steam or stir fry to retain the value.
Follow @htlifeandstyle for more