How to use sabja seeds for weight loss, dietitians on health benefits of this magic ingredient
If you want to lose weight fast, and stay fit, dietitians suggest you must include sabja seeds in your health diet. It is low on carbs and high on proteins, which will help you reach your fitness goals faster.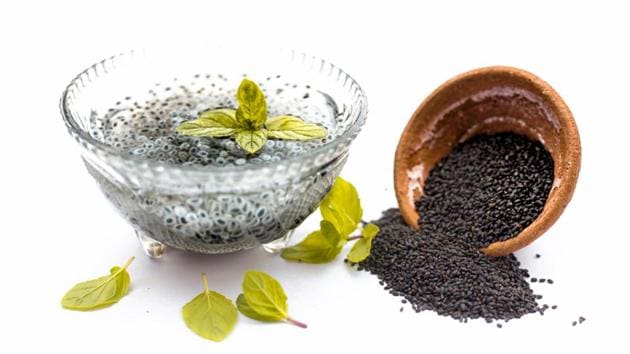 Updated on Jun 25, 2018 08:11 PM IST
Sabja seeds, or basil seeds call them by any name, but including these magic seeds can be very healthy for your body. Usually consumed after soaking it in water, two teaspoons have only 40 calories but is very nutrient dense.
"It is low-carb and high in protein, which is a rare combination in most vegetarian sources of food," says nutritionist Ritesh Bawri. He adds, "The fibre will keep you feeling satiated long and ensure that you do not end up eating again. As a result, you end up eating lower calories and can potentially lose weight."
Sabja seeds have about 11gm of proteins, 5gm of carbs and 2gm of fibre, which makes it the perfect mix for weight loss. Sabja seeds contain oil components, which comprises of 50% linoleic acid, 22% linolenic acid, 15% oleic acid and 8% unsaturated fatty acids. It is also a good source of omega 3 and 6 fatty acids. This means it has anti inflammatory properties.
How to use
The simplest thing you can do is soak two teaspoons of sabja seeds in water and drink it every day. "They can also be added to sherbets, falooda, smoothies for added benefits," says Bawri.
According to Roshan Kore, senior dietician, Narayana Health - SRCC Children's Hospital, "Sabja seeds have always been used in Ayurveda largely due to its medicinal properties. It has a cooling effect on our body. It has also been used to treat conditions such as depression, high blood pressure, high cholesterol and metabolic imbalances.
When soaked in water, the seeds absorb water and increase in size, which in turn increases the fibre content. It has a mild flavour and it can also be mixed with yogurt. Make sure to allow at least 10-15 minutes for it to swell up.
"Basil seeds also offer benefits in preventing weight gain in people with metabolic syndrome. Animal studies have shown that consumption of basil seed extract may delay the development of insulin resistance and shows promise in treatment of diabetes. Basil seeds' high fibre content likely slows digestion to prevent spikes in blood sugar, and subsequently the hormone insulin, following meals," adds Kore.
Thus, basil seeds or sabja seeds can safely be added to your diet. However, just eating these seeds won't lead to weight loss. You need to add some more diet tweaks and workout in order to lose weight.
Follow @htlifeandstyle for more
Close Story