At 25,000 euros a minute, Lionel Messi zooms past Cristiano Ronaldo as top earner
Lionel Messi is a long way ahead, pulling in 126 million euros in salary, bonuses and commercial revenue while Cristiano Ronaldo is making 94 million euros.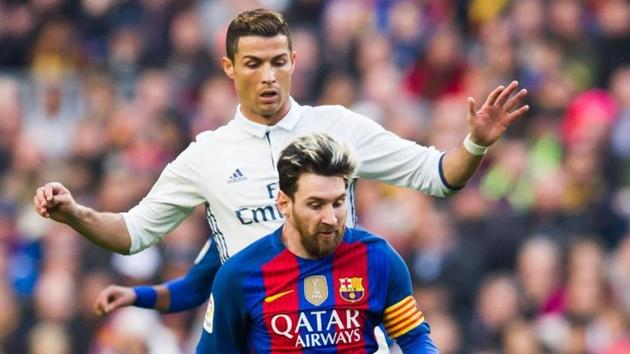 Updated on Apr 23, 2018 07:04 PM IST
Agence France-Presse, Paris |
Agence France-Presse
Lionel Messi has overtaken Cristiano Ronaldo as the highest earner in world football while Jose Mourinho tops the managers' chart, according to France Football magazine.
The Barcelona attacker is a long way ahead in the figures for the current season, pulling in 126 million euros ($154mn) in salary, bonuses and commercial revenue while his great Real Madrid rival is making 94mn euros.
Last season 'CR7' led with 87.5mn euros with Messi on 76.5mn euros.
READ | Juventus still in the driving seat, warns Napoli coach Maurizio Sarri
That works out at 25,000 euros per minute pitch time this season for Messi in La Liga, the Champions League, the Spanish Cup and Supercup and four international appearances for Argentina this season, and assuming he plays all of Barcelona's five remaining games.
The two players who have split the last 10 Ballons d'Or are followed by Paris Saint-Germain's Brazilian star Neymar on 81.5mn euros in the calculations to be published by France Football on Tuesday and released to AFP Monday.
There is a big gap to Ronaldo's Real teammate Gareth Bale on 44mn euros and Barca defender Gerard Pique on 29mn euros.
Among coaches, Manchester United's Mourinho remains the biggest earner with 26 mn euros.
READ | Napoli reignite Serie A title race with last-gasp win over Juventus
Next comes China boss Marcello Lippi on 23mn euros, follwoed by Diego Simeone at Atletico Madrid, Zinedine Zidane, who has won the last two Champions League titles at Real and Pep Guardiola, who has just led Manchester City to the English Premier League.
Top 5 player earners (gross wages, bonuses and commercial revenue in the 2017-2018 season):
1. Lionel Messi (ARG/Barcelona): 126 mn euros, 2. Cristiano Ronaldo (POR/Real Madrid: 94mn euros, 3. Neymar (BRA/Paris Saint-Germain): 81.5 mn euros, 4. Gareth Bale (WAL/Real Madrid): 44 mn euros, 5. Gerard Pique (ESP/Barcelona): 29 mn euros
Top 5 coaches (gross wages, bonuses and commercial revenue in the 2017-2018 season):
1. Jose Mourinho (POR/Manchester United): 26 mn euros, 2. Marcello Lippi (ITA/China): 23 mn euros, 3. Diego Simeone (ARG/Atletico Madrid): 22 mn euros, 4. Zinedine Zidane (FRA/Real Madrid): 21 mn euros, 5. Pep Guardiola (ESP/Manchester City): 20 mn euros
Close Story
Personalise your news feed. Follow trending topics