England gave everything against Croatia: Gareth Southgate after FIFA World Cup 2018 loss
AFP, Moscow |
Agence France-Presse
Jul 12, 2018 10:39 AM IST
Gareth Southgate-coached England were hoping to reach a first FIFA World Cup final since 1966, but let an early lead slip to lose 2-1 against Croatia in the semi-final
Manager Gareth Southgate said England "left everything out there" after falling to an extra-time defeat by Croatia in the World Cup semi-final on Wednesday. (FIFA World Cup semi-final highlights - Croatia beat England, enter final)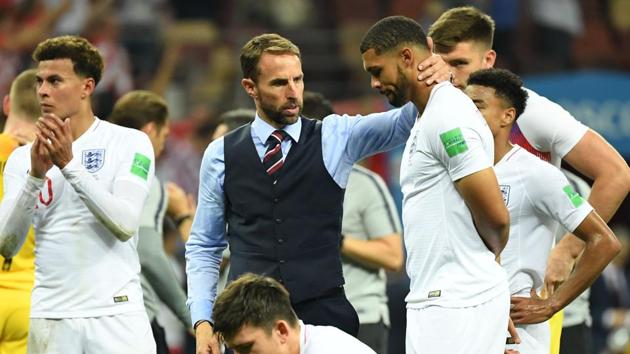 England were hoping to reach a first World Cup final since 1966, but let an early lead slip to lose 2-1.
"I think in the first half we were really good and maybe we could have got another goal," Southgate told ITV.
"I can't ask for more from the players. I think knockout football is about fine margins and when you have good spells against fine sides you need to take your chances.
"Tonight we weren't quite there but we will learn from that. We left everything out there."
Southgate said the players were deeply disappointed, but that his young team could achieve great things in the years to come, with the European Championship just two years away.
READ | Croatia on fire after FIFA World Cup 2018 'miracle' entry into final vs France
"It's impossible to say anything to make the players feel better at this moment in time," he said.
"We have to be proud of what we've achieved. I don't think anyone could have given any more.
"Players had run out of steam but that's partly their age -- they're still physically maturing. Croatia have hardened warriors whose understanding of big matches at times came to the fore.
"The players have to go through big matches and experiences to become a team that can win. They have to use this experience for benefit and I know that what's happened over the last few weeks will make them a stronger team."
Harry Kane looks set to claim the Golden Boot as the World Cup's leading scorer, but the Tottenham star rarely looked like adding to his six goals against Croatia.
READ | Mandzukic stars as Croatia down England to enter first FIFA World Cup final
'Suffer the result'
"I think he's given absolutely everything for the team," Southgate said of the 24-year-old England captain. "I think now is the time for us to be strong as a group and take the time to reflect on the performance a little bit over the next couple of days.
"He's captained the team brilliantly over the tournament and I can't ask for more from him."
It was England's best performance at a major tournament since Southgate was part of the team that reached the semi-finals at Euro '96.
England arrived at this World Cup with the least experienced squad in terms of caps, but Southgate said the agony of losing was just as strong despite surpassing limited expectations.
READ | Croatia can take 1998 World Cup revenge vs France in final: Coach Dalic
"We all feel the pain of the defeat. Did we expect to be in this position? I don't think realistically any of us did," he said.
"But when you've got to this point, and we've played as well as we have, you want to take those opportunities in life."
"There will in time be a lot of positives to take," he added. "It's very hard to put that into context and a bit too soon really, because I think you have to suffer the result a little bit. It's too easy to move on quickly."
England will return to their Repino base near Saint Petersburg ahead of Saturday's third place play-off against Belgium, a repeat of their final group match.
"The honest thing is it's not a game any team wants to play," Southgate admitted. "We have two days to prepare and we'll want to give a performance of huge pride.
"Of course it's going to be a really difficult task over the next 24 hours to get everyone mentally back to where we want them for a game like that. That will be the challenge."