Japan fans, players show big heart after FIFA World Cup 2018 exit; clean dressing room & stands
Updated on Jul 04, 2018 11:10 AM IST
Japanese fans and players cleaned the Rostov Arena Stadium and dressing room after their loss to Belgium in a FIFA World Cup 2018 Round of 16 match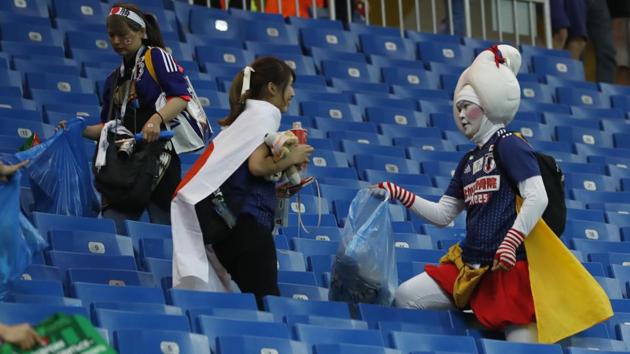 Japan showed immense grit in their FIFA World Cup 2018 Round of 16 match against Belgium before going down 2-3. The result was particularly disheartening for the fans and the Japanese players alike as till early second half, they led 2-0. (BEL v JPN report)
Nonetheless, the loss did not deter Japanese fans from displaying exemplary behaviour. After the match ended in Rostov-on-Don, Japanese fans could be seen cleaning up the stands and filing up all the trash in plastic bags. (BEL v JPN highlights)
Their football team was not behind either as it cleaned the dressing room and even left a 'Thank you' note behind.
However, most of the fans were teary-eyed after the result. The Samurai Blue looked on track to reach their first quarter-final in three last-16 attempts, only to see the Belgium national football team roar back and snatch a 3-2 win with an explosive counter-attack deep into stoppage time.
"When we took the lead I thought we were going to win," said 21-year-old university student Nao Okada, who burst into tears at a Tokyo sports bar as the final whistle sounded.
READ | Belgium proved winning mentality in stunning comeback: Roberto Martinez
"It hurts but it was a really good game and I feel moved. I want Japan to keep playing hard next time," she said.
The 61st-ranked Japanese were given little chance of making an impact at the tournament, but their gritty group stage display and last-16 match versus Belgium won over the fans.
"This was a really good team, their passing and scoring and teamwork," said 39-year-old hairdresser Kenichi Okegami.
"At 2-2 I thought we were heading for a penalty shootout... it's crushing," he said.
Belgium became the first side to win a World Cup knockout game from two goals down since 1970, making the loss all the more gut-wrenching for Japan and their supporters.
"Just a little bit more... it was a harsh result," said Kenta Saito, 61, a former school football coach and a qualified referee. "They had chances at the end but they couldn't grab them," he said.