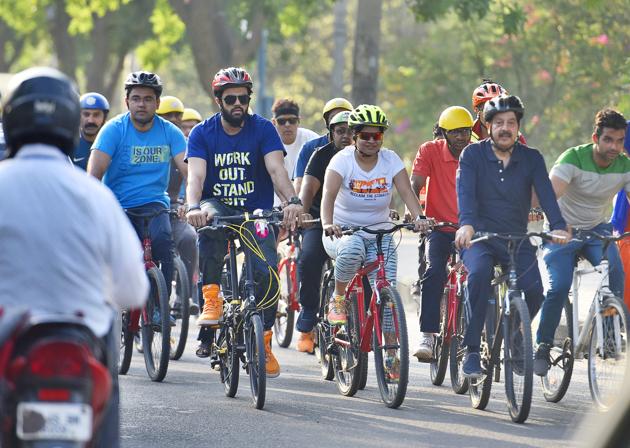 Fun and fitness in focus at Raahgiri in Palam Vihar
A host of events, including a warm-up session, yoga, gymnastics, cultural program and live performances, were also part of the Raahgiri function
UPDATED ON APR 08, 2018 11:43 PM IST
In an initiative aimed at promoting sustainable transport and use of roads for holding activities, cabinet minister Rao Narbir Singh, deputy commissioner Vinay Pratap Singh, actor Manish Paul and other senior government officials, covered 10km on bicycles from the Civil Lines to Palam Vihar on Sunday.
The initiative was part of the second Raahgiri Day function since its re-launch two months ago.
For the second time, the function was organised at Palam Vihar, instead of Sushant Lok Phase 1, the usual spot for Raahgiri.
A warm-up session, yoga, gymnastics, cultural program and live performances were also part of Sunday's function.
"The Raahigiri function serves as a platform for people to connect. I appeal to the residents of Gurugram to come forward in large numbers and avail of the benefits of this function that not only helps improving one's physical and mental health, but is also highly entertaining," Narbir said.
The cycling commenced from Narbir's residence around 7am in the Civil Lines and finished at Rezang La Chowk at Palam Vihar in under an hour's time.
Deputy Commissioner Vinay Pratap Singh announced that actor Manish Paul has been made the brand ambassador for the function and the concept of Raahgiri was 'pedestrian safety and happy street'.
Read I Raahgiri returns to Gurgaon this February 25
"Raahgiri is a unique concept, which is aimed at ensuring that people maintain their fitness levels while not compromising on the fun factor," Singh said during the function.
Owing to a lack of funds, organisers discontinued Raahigiri after October 22, 2017. However, it was revived after a gap of four months on February 25. Narbir announced that on the behalf of the state government, the concept is being revived and said that a fund of ₹16 lakh has been allocated to ensure that the event takes place throughout this year.
Aside from Sushant Lok Phase 1 and Palam Vihar, the areas of Sector 5, Sohna Road, Sector 56 and MG Road have been shortlisted for holding this year's events.
Other events such as acrobatics, photography, taekwondo, skating, bhangra, Zumba, tent pitching, hiking workshops, archery, and badminton were also part of the Raahgiri function.
Close