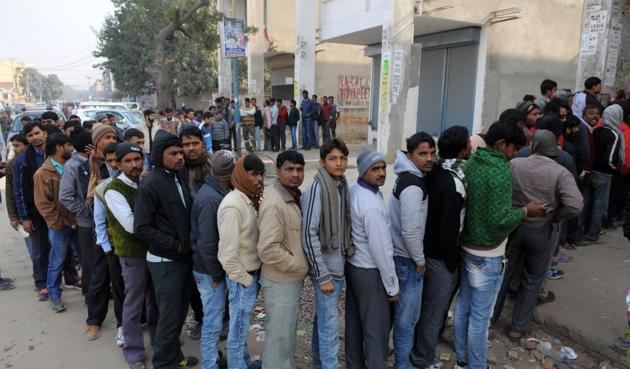 Gurgaon police record 169 distress calls from banks since Nov 8
In comparison, Delhi police received 40,000 such calls during the same period
PUBLISHED ON DEC 22, 2016 11:33 PM IST
Since demonetisation, the police said their control room received 169 distress calls pertaining to demonetisation, mostly from bankers, as the public in queues turned unruly.
Of these, just two calls were made by those waiting in queues to withdraw, deposit or exchange cash, as per the police records.
This is in sharp contrast to neighbouring Delhi, where the police received over 40,000 calls pertaining to demonetisation during the same period.
Gurgaon police officials said that barring a few commotions, the queues outside banks were catered to smoothly.
On November 9, a day after Prime Minister Narendra Modi announced the scrapping of Rs500 and Rs1,000 notes, the police control room at the new commissioner of police office, near Rajiv Chowk, received 13 distress calls.
On November 10, the calls shot up to 19 followed by 38 on November 15, the highest number of calls so far.
"By and large, the whole process of disbursing cash at banks has been smooth in Gurgaon," Sandeep Khirwar, commissioner of police, Gurgaon, said.
"We have had few calls of minor commotions, but there was no major incident reported anywhere till date," the commissioner said.
Police had, in fact, deployed a majority of its personnel to manage queues outside banks.
Bankers said it was primarily because of the heavy police presence at banks that the withdrawal, deposit and exchange of currency could be carried out peacefully.
"Most of the calls received were from bank officials, who complained about people in queues turning unruly," a police personnel of the control room, said.
On a given day, the control room receives around 2,500 distress calls, of which less than 1% pertain to criminal incidents.
Most of the calls are blank calls, officials said.
In 2016, up to November, the control room received over 8.2 lakh calls. Seventy personnel work in three shifts at the control room.
Close