History sheeter shoots, injures wife at Gurugram school beauty pageant, escapes
The man, who suspected his wife of cheating on him, is a real estate agent. Native of Mitraon village in Delhi, he shifted to city 10 years ago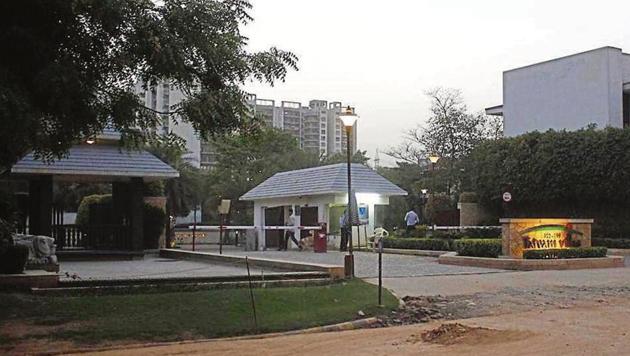 Published on Apr 30, 2019 04:53 AM IST
A 36-year-old teacher was allegedly shot at and injured by her husband, late Sunday night, in the society club of Tatvam Villas on Sohna Road where she was attending a beauty pageant organised by the school where she works, the police said Monday.
The woman suffered a gunshot injury in both her legs and is receiving treatment at a private hospital in the city.
The accused, a 38-year-old history sheeter, was identified as Inderjeet Singh Gehlot alias Babloo, a real estate agent who hails from Mitraon area in New Delhi's Najafgarh. He had moved to Gurugram 10 years ago.
"A probe has revealed that the man is a history sheeter and has been to jail twice for murder, once in 1998 in Najafgarh and then in 1999 in Nangloi. He has been associated with Krishan Pehalwan's gang," assistant commissioner of police (crime) Shamsher Singh said.
In her complaint to the police, the woman said she had informed her husband that she was attending a school function and would return late and had left her house around 8pm.
The police said Gehlot suspected his wife of having an extramarital affair with another teacher and was enraged when he heard that his wife was at a "club" and not in her school for the event.
"Gehlot called her around 10.50pm and said he was standing outside her school in Sector 56. He asked her to come out, but the wife said she was in a club on Sohna Road in Sector 48 and not in the school. Hearing this, the man got angry and asked that she send him her location on WhatsApp," Badshahpur station house officer Mukesh Kumar Mann said, adding that the accused assumed that his wife had lied to him regarding the school function.
By 11.20pm, Gehlot and a friend of his friend reached Tatvam Villas.
According to the woman's complaint, "He and his friend sat down with me on a sofa and started fighting; he was constantly abusing me. The fight soon took an ugly turn and he fired two shots at a screen. On hearing the gunshot, people panicked and he held my hand and tried to drag me out of there. When I resisted, he threatened to kill me and shot at my right knee."
The police said that at the time of the incident there were more than 100 people in the club. Fearing arrest, he fled from the spot leaving his injured wife there.
"The organisers rushed the woman to a private hospital in Sector 38. She is reported to be out of danger, but has suffered two injuries. The bullet pierced through the right knee and hit the other leg," SHO Mann said.
The accused was reportedly inebriated when he went to see his wife, the police said, adding that earlier in the day, he had fought with her again accusing her of having an affair.
The police have recorded the statement of the victim, who said her husband often fought with her suspecting her of being involved with another man.
A case of attempt to murder under the Indian Penal Code (IPC) and relevant sections of the Arms Act was registered at Badhsahpur police station on Monday morning.
The police have formed teams to arrest the accused whose last location was tracked to Najafgarh, police said.
The couple got married in 2005 and have two school-going children.
Topics
Close Story