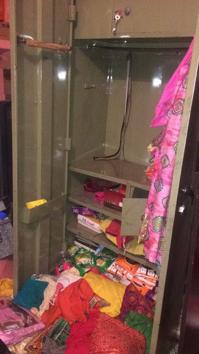 Thieves lock family members in rooms at Gurgaon village, decamp with gold, cash worth lakhs
A gang of five struck the house of a former numberdar in Gurgaon's Gadholi village and looted ornaments worth
₹
25-
₹
30 lakh and some cash
UPDATED ON MAY 01, 2017 04:17 PM IST
Thieves struck at the house of a former numberdar in Gadholi village and decamped with valuables worth lakhs after locking the family members from outside as they slept in their rooms. The group of five thieves, clad in jeans and t-shirts and their faces covered, entered the house situated on the busy Pataudi road at 1.45 am and carried out the heist for over an hour.
According to the police, the goons entered the house from the back and stole valuables worth ₹25 to ₹30 lakh and some cash from the house of Mange Ram, former numberdar of the village. "We have registered a case and the investigation is on. The CCTV footage is also being examined," said Anil Kumar, ASI, Gurgaon police, an investigating officer in the case.
Mange Ram told HT that the thieves managed to steal 840 grams of gold, 1 kg silver and 5 lakh in cash. "The thieves broke two doors to enter the house from the back and locked all the rooms from outside. As could be seen in the CCTV footage, they then entered the storeroom where the valuables were kept in boxes and suitcases. All these were broken and they took away the cash and ornaments," said Mange Ram.
From the store room, the accused took away 5 lakhs from his mother's box and ornaments that included 8 gold rings, 3 heavy gold chains, one mangalsutra, three gold bangles, 2 gold sets, 2 ladies bangles and other ornaments, he claimed.
Read I Gurgaon: Doctor's house burgled in Ardee City, another theft in Sector 56
The occupants were fast asleep as the heist was being carried out . The crime was discovered only after Mange Ram's mother woke up around 3 am and tried to open the door, but found it locked from outside.
She called other family members, but they also found themselves locked in. "I called my sons and other family members, but every room was locked from outside. We had to call our neighbour to open the locked doors.It was then that we came to know about the robbery," he said.
The police was called around 3.30am and a team from Sector 10 A police station reached the spot at 4 am and inspected the crime scene. Later, a team from the crime branch and forensic experts also visited the spot and collected samples.
Sumit Kuhar, DCP West, said that a case under sections 457 (house breaking), 380 (theft in dwelling house), 342 (wrongful confinement) of the IPC has been registered. He said the police are working on some leads. "Two teams have been constituted to investigate the case. The culprits will be nabbed soon," he said.
Close