Go Raahgiri way to solve urban planning problems of Gurugram
Nov 21, 2018 03:27 PM IST
Gurugram's most basic mobility woes prevail because the solutions are being crafted in isolation, with no integration among agencies and no feedback from commuters.
It was exactly five years ago, on the cold foggy morning of November 17, 2013, that Raahgiri was launched in Gurugram. It was an urban movement of sorts, which attempted to break the myth that if safe and vibrant streets are provided to the people, irrespective of gender, caste, age, income, weather, etc., it would be used by the people. In November 2018, this small experiment in Gurugram has grown to over 70 locations across the country and the number is rising.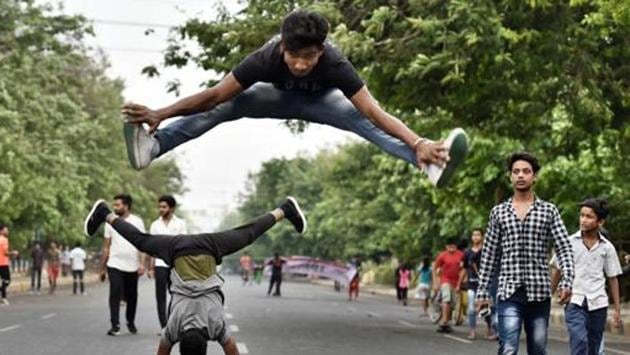 Raahgiri is a great example of public, private and community participation to bring together a positive change. It is also an example of how a small citizen-led movement can be scaled up at the national level. Therefore, as we move towards solving complex urban problems, is it possible to take a leaf out of the Raahgiri story? Yes, let me give three such examples.
Improving access to metro
Ask anyone using Metro about their biggest problem and their reply would be "reaching the Metro station". The Huda City Centre Metro station in a classical example of how not to plan a Metro station. For example, passengers exiting the Metro station get down from the stairs in front of Fortis Hospital before starting another climb on a foot overbridge (FOB). Why? Because the FOB built by the city ends before the boundary wall of the Metro station. Similarly, crossing the road from the other two sides is nothing if not a nightmare. Similarly, underground parking lots at the station charge Rs120 for parking a car for more than six hours, thus making parking and using the Metro impossible. On the other hand, people happily park on service roads, which further creates bottlenecks on the road that aggravates to severe congestion. All of this is taking place because the solutions are being crafted in isolation with no integration among agencies and no feedback from commuters. Therefore, a Raahgiri-like platform that can bring together these agencies along with citizens would help in solving the mess.
Managing traffic circulation plans
It has become common for agencies to try hard to solve traffic problems by constantly coming up with circulation plans. However, Gurugram has taken this approach to the next level. The roads have now become a lab for experimenting traffic movements. All of a sudden, you can see intersections being closed, U-turns created, service lanes removed, jersey barriers installed, all of which are designed to find the non-existent perfect traffic circulation. What we fail to realise is the fact that all this comes at a huge cost to commuters. It not only impacts the travel pattern but also seriously impacts the road safety. All of this takes place because people involved in trying this experiment do not have any evaluation criteria. The success or failure of these experiments is dependent on their perception and not data. Plus, there is no feedback from users as most of these experiments are catered towards moving cars faster while people on foot, cycle, bus, auto or even taxi are not even considered. Therefore, a platform like Raahgiri that can bring together all stakeholders and most importantly, commuters, will not only help find the right solution but also give the right feedback for improvement.
Reimagining neighbourhood improvement process
In India, the approach to urban planning for the past century has been top-down. This basically means that it is governed and driven by a few politicians, bureaucrats, technicians or experts. This approach fails to get the real picture of the problem at hand as solutions are standardised. Therefore, rather than developing the solution for a problem, such problems are usually sought out so that the solution can be applied. Neighbourhood or ward improvement also suffer from the same syndrome as the improvements mostly revolve around blanket projects like solid waste management, pothole repairs, streetlighting, etc. Now, whether these projects are the "real solution to the problem" or not is a separate issue. It is often seen that problems a neighbourhood has can have simple solutions such as installing signage or a bus stop or auto stands. Therefore, a platform that can bring public agencies, private sectors, experts to jointly develop projects would greatly benefit the quality of planning and the proposal itself. Greater engagement with citizens would also increase the ownership of the solutions, which is a great takeaway from the Raahgiri.
Citizen's needs are not met with what is supplied to them, be it infrastructure, services or other amenities. This is because our cities need disruptive solutions and not incremental changes that we offer.
Therefore, we need to relook at our approach to problem solving because the current approach is not working. The great Albert Einstein, rightly, once said, "We cannot solve our problems with the same thinking we used when we created them."
@amitbhat4u
(Amit Bhatt is the director, integrated transport, WRI India)
"Exciting news! Hindustan Times is now on WhatsApp Channels
Subscribe today by clicking the link and stay updated with the latest news!"
Click here!