And now, new study shows e-cigarettes may help you kick the butt
Apr 27, 2016 10:22 AM IST
E-cigarettes can reduce overall smoking as well as potentially decrease the mortality rates particularly arising out of cigarette smoking.
A team of international tobacco control experts has found that use of e-cigarettes can reduce overall smoking as well as potentially decrease the mortality rates particularly arising out of cigarette smoking. The findings showed that e-cigarettes have the potential to counteract health risks and may do more benefit than harm.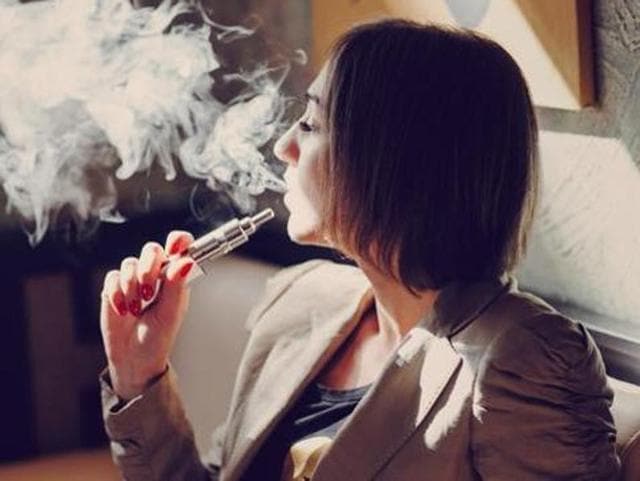 Also, the evidence suggests a strong potential for e-cigarettes use to improve population health by reducing or displacing cigarette use in countries where cigarette prevalence is still high and smokers are interested in quitting.
Read: Smoking kills. We mean your job prospects, salary
"While e-cigarettes may act as a gateway to smoking, much of the evidence indicates that e-cigarette use encourages cessation from cigarettes by those people who would have otherwise smoked with or without e-cigarettes," said lead researcher David Levy, professor at Georgetown University in the US.
However, the experts' estimated that exclusive e-cigarette use is associated with about 5% of the mortality risks of smoking. Research shows that cigarette smoking rates have fallen more in the last two years than they have in the previous four or five years in the US, Canada and England, and that this trend has coincided with the increase in e-cigarette use.
"We believe that the discussion to date has been slanted against e-cigarettes, which is unfortunate, because the big picture tells us that these products appear to be used mostly by people who already are or who are likely to become cigarette smokers," Levy added.
In the study, published online in the journal Addiction, seven top international tobacco control experts have prompted regulators at the US Food and Drug Administration (FDA) to have a broad "open-minded" perspective when it comes to regulating vaporised nicotine products, especially e-cigarettes.
The team synthesised much of the evidence published to date on e-cigarettes to suggest that use of these products can lead to reduced cigarette smoking overall with a potential reduction in deaths from cigarette smoking.
The team also warned that heavy regulation and taxation of e-cigarettes will counteract the benefit that these products can provide.
"We don't want to encourage e-cigarette use by youth and young adults who would not have otherwise smoked. However, the primary aim of tobacco control policy should be to discourage cigarette use while providing the means for smokers to more easily quit smoking, even if that means switching for some time to e-cigarettes rather than quitting all nicotine use," the researchers noted.
"Exciting news! Hindustan Times is now on WhatsApp Channels
Subscribe today by clicking the link and stay updated with the latest news!"
Click here!