Marvel and James Gunn just had a meeting about his future, here's what they decided
Updated on Aug 16, 2018 01:32 PM IST
Disney and James Gunn reportedly held one last cursory meeting to discuss the director's future in the Marvel Cinematic Universe.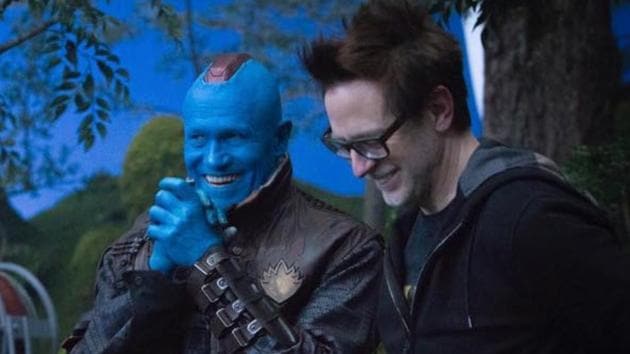 Disney Studios boss Alan Horn and ousted director James Gunn had a meeting earlier this week, reports Variety. The agenda was to discuss whether or not there was any possibility of his being brought back on board Guardians of the Galaxy Vol 3, a movie he was fired from in July, after controversial tweets he'd made years ago were unearthed.
The report describes the meeting as being more of a cursory, face-to-face goodbye for Gunn, fan and cast support for whom, had kept hopes of his return alive. The director was quickly fired after right-wing commentators discovered old tweets of his in which the then provocative filmmaker had made jokes about paedophilia and rape.
Only hours ago, star Chris Pratt had expressed hope that all parties could strike a compromise and that Gunn could return. Pratt and the entire central cast of the films had earlier also signed an open letter expressing their support for Gunn, who, they felt, deserved a second chance. Dave Bautista, who plays Drax in the series, had even threatened to quit were Gunn's script to be scrapped.
Gunn has been writer and director of the Guardians of the Galaxy franchise from the start, taking an obscure Marvel Comics title about a group of misfits and turning it into a space opera decked with comedy and retro music that made Pratt a major movie star. Through two instalments, the franchise has brought in more than $1.5 billion in global box office.
Marvel Studios boss Kevin Feige was reportedly not present for the meeting because he was out of town. The report says that Feige supports Disney's decision in not rehiring Gunn.
Once he returns, the studios will continue their search for a replacement. It is being speculated that the studios are planning on retaining Gunn's script for the film, but are expecting the replacement director to spend time on a rewrite in order to put their own stamp on it.
Guardians 3 had been tentatively positioned to start shooting in early 2019.
Follow @htshowbiz for more
Personalise your news feed. Follow trending topics