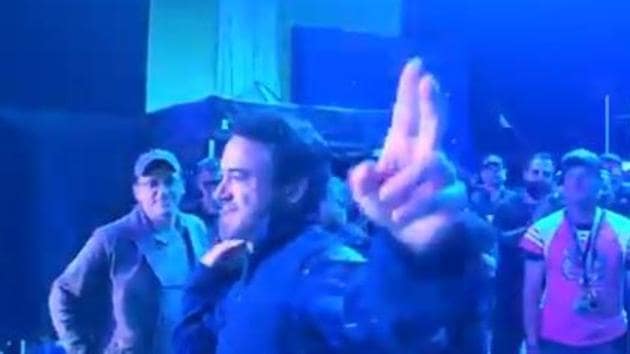 Robert Downey Jr shares emotional video from last day on Avengers Endgame sets. Watch it here
Robert Downey Jr has shared an emotional video from his last day on the Avengers Endgame sets. Watch it here.
UPDATED ON MAY 16, 2019 02:34 PM IST
Actor Robert Downey Jr has shared a behind-the-scenes video from his last day on the sets of Avengers: Endgame. Downey Jr played Iron Man/Tony Stark in the Marvel Cinematic Universe, and concluded his tenure as the fan favourite character with Endgame.
"Feelings, nothing more than feelings," the actor captioned the video, shared on Instagram on Thursday. The video shows Downey Jr giving a short speech to the crew, at Pinewood Studios in Atlanta, Georgia, where Marvel films most of its movies. "I have a lot of feelings, but I'm going to take Chris' lead and save them for Instagram," he says, as the gathered crowd erupts in a sustained round of applause. The 'Chris' whom he is referring to could possibly be Chris Evans, who played Captain America/Steve Rogers in the MCU, and also ended his tenure with Endgame.
Downey Jr proceeds to hug the crew, which includes Marvel Studios president Kevin Feige, directors Joe and Anthony Russo, and others. He signs off with a peace sign, as an assistant director yells, "And that is a wrap on Robert Downey Jr!"
It's unclear as to when this video was made. Downey Jr had completed filming his part, and had bid an emotional farewell to the character, but he was called back to film his iconic last words by Russos in January 2019. The 'I am Iron Man' line was a last-minute addition, and required the Russos to scramble a crew and convince Downey Jr to return, despite his hesitation. In the video, Downey Jr appears to be wearing the SHIELD jacket from the heist sequence.
Co-director Joe Russo told CinemaBlend, "It's an interesting story. I had dinner with (Robert Downey Jr.) like two weeks before we were supposed to shoot it. And he was like, 'I don't know. I don't really want to go back and get into that emotional state. It'll take… it's hard.' And crazily enough, Joel Silver, the producer, was at the dinner. He's an old buddy of Robert's. And Joel jumps in and he's like, 'Robert, what are you talking about? That's the greatest line I've ever heard! You gotta say this line! You have to do this!' So thank God that Joel Silver was at dinner, because he helped us talk Robert into doing that line."
The actors have been sharing frequent BTS videos from the film, now that the self-imposed spoiler ban has been lifted by the Russos. Downey Jr has previously shared videos of the 'I am Iron Man' moment, his reunion with Tom Holland's Spider-Man, and of Thor, Captain America and Iron Man's fight with Thanos. Downey Jr also shared a video of the crew singing him happy birthday on the sets.
Follow @htshowbiz for more

Close