Virat Kohli-Anil Kumble 'rift': Sachin Tendulkar, Sourav Ganguly to mediate?
Jun 01, 2017 10:39 AM IST
It remains to be seen if Sachin Tendulkar and Sourav Ganguly will play an active role in resolving the reported trouble brewing between India captain Virat Kohli and coach Anil Kumble
By design or default, both Sachin Tendulkar and Sourav Ganguly will be in England when India start their ICC Champions Trophy defence against Pakistan on Sunday. Their purposes of visit are different though --- while Ganguly has professional commitments, Tendulkar will be there mainly on holiday.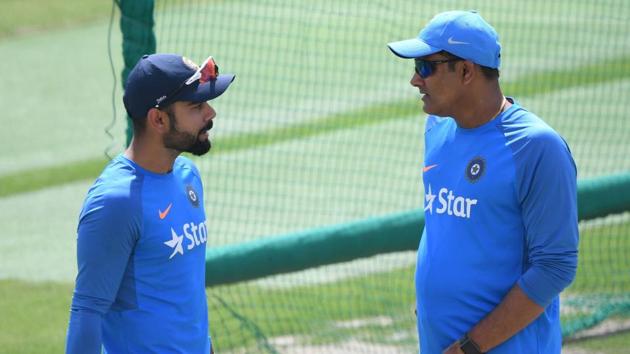 However, if sources are to be believed, Tendulkar has brought forward his itinerary by a few days. And since both Ganguly and Tendulkar are Cricket Advisory Committee (CAC) members, it remains to be seen if they will play an active role in resolving the reported trouble brewing between India captain Virat Kohli and coach Anil Kumble.
Stay tuned with breaking news on HT Channel on Facebook.
Join Now
READ | ICC Champions Trophy: 'Prizefighter' India favourites despite recent ODI run
Already in England, Ganguly didn't want to directly comment on the issue but indirectly said Kohli's word should be the last when it comes to deciding on team affairs.
"A coach's job is to help the captain. I am a firm believer that the captain is the man to run the show and a coach must be there to support him," Ganguly was quoted as saying on India Today.
"I don't know what's going on between Kumble and Kohli and I think this is not the right time to talk about all these things" Ganguly said.
READ | Virat Kohli-Anil Kumble rift: Generation gap can hurt relation, says Gavaskar
Meanwhile, PTI has reported that BCCI joint-secretary Amitabh Chaudhary and general manager (operations) MV Sridhar were scheduled to reach Birmingham on Wednesday to gauge the situation behind the scenes.
The BCCI had invited applications for Kumble's successor, the deadline of which was Wednesday. Kumble, whose one-year contract ends with the Champions Trophy, is a direct entry for the process. Candidates could be screened during the Champions Trophy itself.
The timing of the alleged rift between Kumble and Kohli, however, looks suspicious. It seems unthinkable that a person who was fighting for a sizeable hike for both himself as well as Grade A players had a fallout with the captain, the top name in that grade.
READ | Virat Kohli-Anil Kumble rift: Another setback for Indian coaches, says Madan Lal
A source in the know of the team atmosphere too trashed the reports, saying a mountain had been made out of a molehill. "There is a problem. You cannot deny that. But they are petty issues. It is not even worth discussing. It is not that Kohli and Kumble are not seeing eye-to-eye," the source told HT on Wednesday.
When pressed what issues they were, the source said: "They are some simple things like field placements and instructions coming from the dressing room."
A team source, who was a witness in the long home Test season, is surprised with the rift reports between Kumble and Kohli. "This is very surprising. Everything was well till the Australia series. There was a huge party afterwards to celebrate the series victory and ending the successful home season on a winning note. It is hard to believe stories of rift," he said.
READ | India will beat Pakistan, win ICC Champions Trophy: VVS Laxman
If Tendulkar and Ganguly --- who had played a major role behind Kumble landing the job of India coach --- intervene in England, their first job would be to ease the tension in the dressing room. The CAC trio will also have to gauge whether Kumble and Kohli are on the same page and are capable of steering the team till the 2019 World Cup.
If that is not guaranteed and irreparable damage has indeed been caused, then the BCCI will have to look for Kumble's replacement. In that case, the BCCI will go with a makeshift arrangement for the West Indies tour as picking the right candidate will take time.