Air Force rescues 14 in UP; 16 killed as rivers flow in spate
Updated on Sep 02, 2018 10:39 PM IST
On Saturday, Shahjahanpur bore the maximum brunt of the weather's onslaught, as six people were killed in incidents of lightning strike, while seven were injured.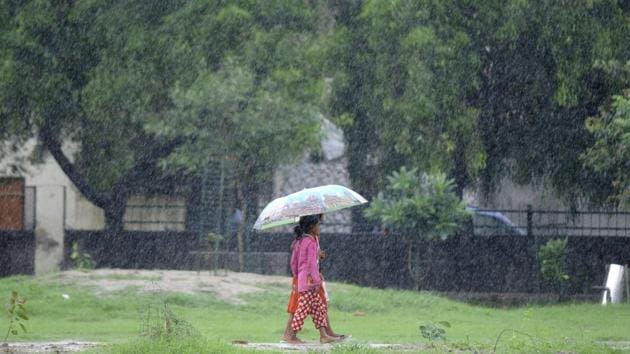 The Indian Air Force rescued 14 people stranded due to floods in Uttar Pradesh where 16 people were killed in rain-related incidents in the last 24 hours.
Six people, who got stuck in a marooned village in Talbehat tehsil of Lalitpur district, were rescued by Air Force team sent from Gwalior air base.
Another team rescued eight fishermen stranded on an island near Erech Dam on Betwa river in Garautha tehsil of Jhansi district.
Relief commissioner Sanjay Kumar said 12 people were injured and 461 houses/hutments damaged in the rainfall.
Six people were reported dead in Shahjhanpur, three in Sitapur, two each in Auraiya and Amethi, one each in Lakhimpur Kheri, Rae Bareli and Unnao districts.
Sharda river was flowing above danger level near Paliyakala in Lakhimpur Kheri district, Ghaghra was above danger mark at Elgin Bridge in Barabanki, Ayodhya and Turtipar in Ballia district, Kuwano was flowing above danger level in Chandradeep Ghat in Gonda district and Ramganga was above danger level in Shahjhanpur district, he said.
The Ganga was flowing close to the danger level near Narora and Kachala bridge in Bulandshahr district and near Fatehgarh and Ankinghat in Kanpur Dehat district.
Saryu flowed near danger mark at Gaighat in Basti district and Rapti was flowing near danger level in Balrampur district.
Personalise your news feed. Follow trending topics