2005 blast: Kashmir alienated by Delhi Police jailing the wrong man
Updated on Feb 22, 2017 06:45 PM IST
Records that showed Rafiq Shah was in class at Kashmir University were hidden and a fake witness planted as the case dragged on for 12 years.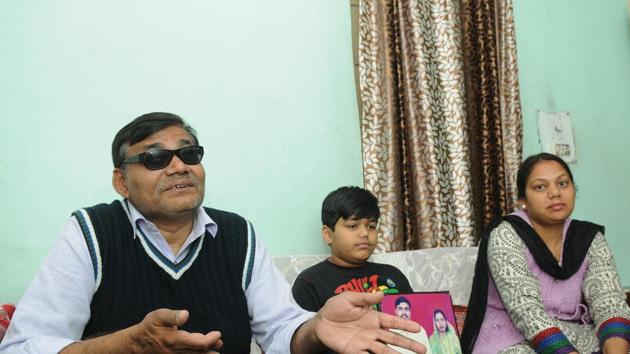 Hindustan Times, Srinagar/Delhi |
, On The Radar
Aman Sethi, Prawesh Lama and Abhishek Saha
Three months into custody, the 2005 Delhi serial blasts suspect continued to protest his innocence; so Inspector MC Katoch of the Delhi Police Special Cell relented and wrote out a letter.
On the day of the attack, suspect Rafiq Shah claimed "he was present in the university and attended all his classes," Katoch wrote in his letter, dated February 17 2006, to the Registrar of Kashmir University (KU).
Could the university share his attendance record?
But the University was shut for winter vacations.
A decade later, the case files reveal that the university did reply – not once, but twice; but the Special Cell suppressed information.
On October 29 2005, three bombs ripped through Delhi, killing 67 people and injuring 200. Three weeks later, the Cell arrested three Kashmiri men – Tariq Ahmad Dar, accused of planning the attack, Mohammad Fazili, and Rafiq Shah – a 22-year-old student of KU, accused of detonating a bomb in a bus.
Twelve years later, on Feb 16 2017, Shah and Fazili finally walked out of Delhi's Tihar jail – acquitted of all charges; Dar was held guilty of links to a banned organisation but was acquitted of his role in the blasts.
In his judgment, Judge Reetesh Singh, expressed bewilderment as to why Katoch didn't just "verify whether the claims of Mohmd. Rafiq Shah regarding him being in class on 29.10.2005 were correct or not."
Shah's case is illustrative of how rogue units like the Special Cell have compromised India's counter-terror operations through ineptitude and gross malpractice.
"Cases like Shah's are doubly dangerous," said a former officer with the National Investigation Agency (NIA), "One, the real perpetrators are free. Two, you have alienated an entire population by putting the wrong man in jail."
Between the attack on Parliament in 2001 and the Mumbai attacks of 2008, successive governments introduced anti-terror laws like the Prevention of Terrorism Act 2001 and the Unlawful Activities (Prevention) Amendment (UAPA) in 2004.
"These laws made the police unaccountable for their actions, while the serious nature of the offences made judges wary of granting bail to those accused of terror offences," said V. Suresh, lawyer and General Secretary of the People's Union for Civil Liberties (PUCL).
At KU, where Shah was a student, the atmosphere was similarly febrile. The students' union was banned in the 1990s for fostering supposedly "anti-India" sentiment, but students fostered their own forums to discuss politics.
"Rafiq played a role in reviving student activism in University," said Bashir Ahmad Dar, Shah's junior and now a lecturer in Srinagar, "I think he was on the radar because of his activism and his offering of Quranic lessons in his locality."
"In Kashmir, if you are someone whom the agencies do not like, anything can be manufactured against you," said Khurram Parvez, Jammu Kashmir Coalition of Civil Society, describing a persistent atmosphere of diffused suspicion, "Some surveillance and profiling is always going on by the state. You feel naked in front of them."
Police torture
On the day of the blasts, university records indicate Shah attended all four of his classes at the Shah-i-Hamdan Institute of Islamic Studies. Yet in November, the Special Cell picked him up and drove him to a police camp.
"We were tortured. We were kept blindfolded, our clothes were removed and we were beaten by wet towels," Shah later testified in court, adding that he was sexually assaulted by the police, "We were filmed in the nude and a baby pig was made to walk over our nude bodies."
His beard was trimmed down to a "French beard" and a mysterious bespectacled man was brought in to get a good look at him.
Read | 2005 Delhi serial blasts: What happened that day
The Special Cell has denied these allegations.
"The false case against Shah rested on two things – concealment and fabrication," said Rebecca John, Shah's lawyer, "Evidence that he was in class was suppressed, and a fake witness was planted."
In 2005, Danbir Sharma, an eyewitness, gave the Delhi Police a description of the man who planted the bus bomb: 5'6" tall, wheatish complexion, bare-headed with little hair, no beard, white pants, and a "coca-cola coloured shirt." The police created a sketch on the basis of this description.
Once the case was transferred to the Special Cell, they found an eyewitness of their own - Rajeev Sinha, the very same bespectacled man Shah had spotted in the police camp when he was arrested. So in a line-up of suspects, Sinha picked Shah out.
Sinha had offered a different description of the suspect: French cut beard, prominent nose, dark blue-black pants, and a white striped shirt. The Cell prepared new suspect portraits based on Sinha's description, which coincidentally, looked like Rafiq Shah.
What happened to the original portraits?
"The portrait of the suspect prepared at the instance of PW19 [Danbir Sharma] has not seen the light of day," Judge Singh wrote in his judgment, "There is no explanation as to where the document has gone."
Sloppy investigation
The Special Cell was set up in 1985 to track Khalistani militants in Delhi. In the 2000s, the unit claimed to have "solved" a number of high-profile terror cases.
Yet the Cell also acquired a reputation for staged killings and sloppy police work. In 2013, Special Cell officers said they had busted a terror module and recovered an AK-56 rifle from a hotel in Old Delhi.
When the NIA triangulated call-details, cellphone tower dumps, and CCTV footage, they found a man called Sabir Pathan who listed his address as "Barrack No.3, Special Cell, Lodhi Road, Delhi Police" – according to an NIA internal document.
Read | Volunteers with Delhi Police help keep Sarojini Nagar safe
DCP Special Cell Sanjeev Yadav, who also investigated Shah's case, admitted to the NIA that Pathan was his informant. The Special Cell, the NIA concluded, had fabricated the case.
"Unfortunately policemen tasked with national security have the same thanedar mentality," said V. Balachandran, former Special Secretary, Research and Analysis Wing. The former NIA official was more scathing, "The Special Cell has no investigative capacities," he said, "Things are only getting worse."
In Rafiq Shah's case, the Cell they took 10 years to frame charges and call 187 witnesses to the stand. But not one of these witnesses was from KU to either corroborate or contradict Shah's alibi.
In November 2015, the defence finally got its chance.
"Twelve years ago, Rafiq was in one of my classes at the KU," said Dr. Sheikh Jameil Ali, who flew down from Srinagar with his attendance registers from 2005 to prove Rafiq could not have been in Delhi on that fateful day.
In February 2017, Shah's 12-year ordeal came to a close. But the bright-eyed 22 year old from Dr. Ali's class was gone. In his place was a withdrawn, soft-spoken man of 34.