26/11 attacks anniversary: Need to assume that it can happen again, says former home secretary
Updated on Nov 26, 2018 08:32 AM IST
26/11 Mumbai attacks: Ram Pradhan, who had long retired after 36 years of service with the government of India, was asked by then Maharashtra chief minister, Ashok Chavan, to probe the attacks.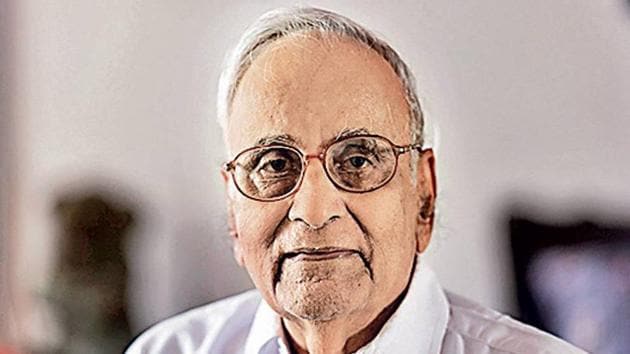 Former Union home secretary in the Rajiv Gandhi government and former chief secretary of Maharashtra, Ram Pradhan, says the image of the Taj hotel's dome burning is etched in his memory. For three days from 26/11, he watched Taj burn from the window of his 12th floor apartment in Colaba.
Little over a month later, Pradhan, who had long retired after 36 years of service with the government of India, was asked by the then chief minister, Ashok Chavan, to probe the 26/11 attacks. Pradhan headed a two-member committee, including former IPS official V Balachandran, that submitted a report within four months on the attacks after interviewing 50 police officials, bureaucrats, and scanning control room data, intelligence inputs, etc.
On the eve of the 10th anniversary of the 26/11 attacks, the 90-year-old former bureaucrat spoke on why investigation agencies should assume that such an attack can happen again. Edited excerpts:
Can 26/11 be repeated?
One wouldn't want to say it, but Mumbai is a prime target for terror groups. We have to be ready all the time. Investigative agencies have to assume that another 26/11 can happen. That's the only way to continuously improve surveillance and our intelligence gathering and arbitration. Now, I can say it openly that the 26/11 attack was to a large extent an intelligence failure on the part of our central agencies.
Our records showed that in August, September and October there were intelligence inputs that such an attack will take place. There were definite tips that Taj and Oberoi are prime targets. But central agencies left it to the Mumbai police to handle this threat.
In your report, you warned of possible future aerial attacks on the city. Do you think this is still a security threat ?
At the time, there had been several examples of attacks on airfields outside the country and hence we had mentioned that smaller aircraft can be used or hijacked for terror attacks. Today, one need not use an aircraft at all, drones can be used to launch an attack or damage an important installation or even airfields. Where will a security force like NSG land if our air strips are destroyed?
In the 1993 blasts, RDX was brought into the city through the sea and the 26/11 attackers entered via the sea route as well. Yet our coastal security continues to be the weakest chink?
Yes, because upgrading coastal security means significant resources for both manpower and equipment. It means buying sophisticated weapons, surveillance systems, boats, setting up coastal police stations, trained police who can swim up to 10-12km in the sea. Even 10 years later, Mumbai has three coastal police stations but they are not even adequately staffed or may not have boats which function. The Coast Guard can carry out surveillance, have speed boats etc. but they don't know what to look for unless they have inputs from the police. We should have a separate elite marine force to man our coastal security.
Are you satisfied with the way the state government has implemented your recommendations?
I would say a lot has been done and lot more can be done. I think both surveillance and overall intelligence system (both gathering and handling) has improved. For every attack there are another 10 potential ones that have been thwarted. There is greater presence of police, they have better equipment, ammunition and vehicles at their disposal. But our greatest pleasure is that the recommendation to install CCTVs in Mumbai has been implemented. Today, we can access video footage of the smallest of incidents and then we didn't even have central footage of Kasab shooting at CST where maximum casualties were reported from.
Did you at the time suspect that there was a local link or involvement in the 26/11 attacks ?
Yes. During the course of our inquiry at Maachimarnagar, we were told that two to three months before the incident, two to three people whom locals identified as strangers had visited and recceed the area as well as taken photographs. They were accompanied by a local person. When the report was ready, then Union home minister P Chidambaram wanted to have a glance at it. I had gone to show the report to him.
We had also prepared a separate note saying there is an aspect of the incident that is troubling us. This was not included in the report because it was sensitive information. But the home department completely ignored this cue. Much later, reports of David Headley surfaced.
What are some of the striking things that you remember of 26/11 that have stayed with you post your inquiry.
I think what is unforgettable is the courage of assistant sub-inspector Tukaram Ombale, who took 11 bullets in his stomach as he held on to Kasab's AK-47 armed with just a baton. And the courage of another constable, Arun Jadhav, who feigned to be dead and passed on a crucial message to the control room about Kasab and another terrorist. Without these two, the police would not have caught Kasab alive. I also remember listening to the recorded calls between the terrorists and the handlers in Karachi — everything from which floor they should station themselves, whom they should attack and how they should do it was told to them from Pakistan.
Personalise your news feed. Follow trending topics