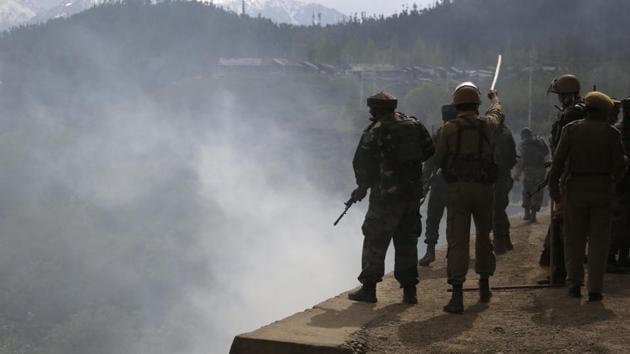 'Act decisively, go to extreme extent if needed': Calls for action against Pakistan grow after Indian soldiers mutilated
The Indian Army has said Pakistani troops killed two of its soldiers patrolling the border on Monday before mutilating their bodies, and has vowed to exact revenge.
New Delhi | By Agencies
UPDATED ON MAY 02, 2017 09:14 AM IST
The Congress asked the government on Tuesday to act decisively against Pakistan, including going "to an extreme extent" if necessary, to respond to Monday's attack in Kashmir where two Indian soldiers were killed and their bodies mutilated by attackers from across the Line of Control (LoC).
The incident, seen as "reprehensible and inhuman" by the government, puts fresh pressure on the Narendra Modi government to deal with the neighbour strongly, possibly in manners similar to last year's surgical strike. Indian forces had at the time gone into Pakistan-held territory and destroyed terror launch pads in response to an attack on an army base in Uri by Pakistani-origin militants.
"Pakistan is violating all international understandings and conventions between two neighbours. If this is the attitude of Pakistan, then I think the future is going to be very serious. India will be forced, even though India does not want that to happen, to act decisively," Congress leader PC Chacko told ANI.
"To retaliate this provocation, we may have to go to an extreme extent. I think Pakistan is inviting trouble for itself," he added.
The attack and the subsequent mutilation by Pakistan's Border Action Team, which often has members of Pakistani army regulars and militants from terror groups, was the third incident of its kind in six months.
The dead included an army junior commissioned officer (JCO), who was leading the patrol team that was targeted, and a soldier of the Border Security Force.
Bodies of both were flown to Jammu by chopper on Tuesday morning, before being flown out to their hometowns for their last rites.
On Tuesday, Congress leader Randeep Surjewala too said that the PM's Bharatiya Janata Party (BJP) needs to take a stand and take action as promised, reported ANI.
"In Jammu and Kashmir alone, over 200 soldiers have made sacrifice, 91 civilians have been killed and 1,343 times Pakistan has committed border ceasefire violation. When will this government wake up? Does it not show a lack of policy or direction on part of this government and a lack of credible, political and responsible leadership on part of the BJP government?" he asked.
Surjewala accused the government of not being serious, pointing to the lack of a regular defence minister. Finance minister Arun Jaitley currently has the additional charge for defence.
"All these questions need to be answered for people of this country demand answer," he said.
Arun Jaitley had on Monday said such "acts don't even take place during war let alone peace", and asserted that the "the sacrifice of these soldiers will not go in vain".
His cabinet colleague Mukhtar Abbas Naqvi said, "Pakistan is inviting its own ruin".
"Our security forces will give a befitting reply to Pakistan," he told media persons on Tuesday.
The Indian Army, while announcing the deaths of the soldiers, warned Pakistan of an appropriate response to the "unsoldierly act" on Monday too.
Close