After airlines deny ticket, Shiv Sena MP Gaikwad forced to travel by train
Shiv Sena parliamentarian Ravindra Gaikwad was forced to take a New Delhi-Mumbai train on Friday after all major airlines in the country put him on their no-fly list for assaulting a senior Air India official.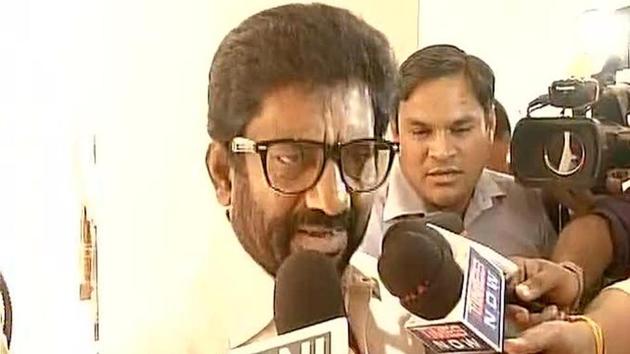 Updated on Mar 25, 2017 09:54 AM IST
From business class air travel to a long, overnight train journey! Shiv Sena parliamentarian Ravindra Gaikwad was forced to take a New Delhi-Mumbai train on Friday after all major airlines in the country put him on their no-fly list for assaulting a senior Air India official.
Gaikwad abused and assaulted a 60-year-old duty manager of the national carrier with his slippers, venting his anger after being denied business class on a Pune-New Delhi Air India flight on Thursday.
Air India and five private airlines banned the 56-year-old MP for Maharashtra's Osmanabad from flying as he refused to apologise for the incident that triggered nationwide outrage.
Air India cancelled the MP's return ticket for the 4.15pm flight on Friday, but he booked an IndiGo flight through an agent.
The private airline too cancelled the booking, forcing him to take the August Kranti Express, which leaves for Mumbai from Hazrat Nizamuddin station in the Capital at 4.50pm.
"Gaikwad is booked on berth number 21 in the AI compartment. It appears that officials granted him spot reservation for being an MP, after he reached the station," a railway spokesman said.
The Shiv Sena has sought an explanation from the first-time MP, while Delhi Police registered two FIRs, charging him with culpable homicide not amounting to murder..
Gaikwad faces arrest after the FIRs were lodged. But Delhi Police spokesperson Dependra Pathak said: "Let the crime branch start the probe and establish their case. They will follow legal procedure."
Fellow MPs have criticised Gaikwad's action, and Lok Sabha speaker Sumitra Mahajan said she would take a call if any parliamentarian brought the topic to her notice in the House.
The Shiv Sena politician, however, remained defiant and unrepentant, and instead blamed the airline employee, R Sukumar, for the incident.
He told reporters at Maharashtra Sadan this morning that he has no regrets.
"Kaahe ka pashchaataap (what is there to repent)? I will not apologise ... he (Sukumar) should come and apologise. Then we will see. A 60-year-old man should know how to behave," he said.
He had bragged before television cameras that he hit the official 25 times with his footwear. "Kaan ke nichey bajaa daala (beat him below his ears)," he is heard saying in video clips that have gone viral on social media.
He said he went out to watch a Bollywood movie — Badrinath ki Dulhaniya — on Thursday night to "relax" himself.
"Tension-free hona chahiye na ... you also watch the movie, it's very good."
Also, Gaikwad boasted that "police can arrest me ... my party, Uddhav saheb will take care of it".
His remarks caused further embarrassment to the Shiv Sena, especially after he crowed that party chief Uddhav Thackeray would bail him out.
The Sena chief has sought a report to determine the facts before he decides on what happens next for Gaikwad.
For his part, Gaikwad wrote to the Lok Sabha speaker and civil aviation minister Ashok Gajapathi Raju for action against Air India and its official. Also, he filed a counter-complaint with police against the airline.
But the minister stood firmly behind the airline and its employees. "I am also an MP. We are not above the law and we have to follow the law of the land," he said.
Air India duty manager Sukumar alleged that the MP had used foul language, snatched his glasses, pinned him to the ground and hit him with a slipper when he tried to persuade him to get off the plane.
Gaikwad had refused to move out of the flight for almost an hour in protest, after it landed in New Delhi, against the airline for allegedly changing his seat from business to economy class.
"You're our role model, no … you're our representative, you're our democratic leader, we have elected you," a woman member of Air India's staff is heard saying in a video clip of the incident.
But the angry politician, who was a college teacher, launched on Sukumar, saying he had misbehaved with him.
Sukumar said on Friday that elected representatives need to behave. "I am not scared at all, either with Gaikwad or with the Shiv Sena. I have been serving the public and have also faced many who get irritated on such issues. It's a common thing for me."
Before he took the train, the MP was blacklisted by Air India, Indigo, SpiceJet, GoAir, Jet Airways and Vistara.
But he insisted: "I have the tickets, they can't blacklist me. I will board the Delhi-Pune Air India flight this evening. How can they not allow me?"
Police beefed up security at the airport after his remarks, as protesters too gathered there, including members of the Aam Aadmi Party.
"We will hit him 25 times with slippers as an answer to his misbehavior," AAP leader Prabhat Kumar said.
The airlines proposed a no-fly list to include names of unruly passengers and asked the government and security agencies to enforce such a measure.
"Spicejet supports a no-fly list to bar unruly fliers," SpiceJet chief Ajay Singh said. "The government needs to act on this soon. An attack on our employees and crew is an attack on us and we strongly condemn such incidents."
IndiGo, which is often at loggerheads with Air India, also came out in support of such a list.
Air India chief Ashwini Lohani has asked his staff not to wait for an approval to file a police complaint in the case of misbehaviour or assault by a passenger.
(With agency inputs)
Close Story
Personalise your news feed. Follow trending topics