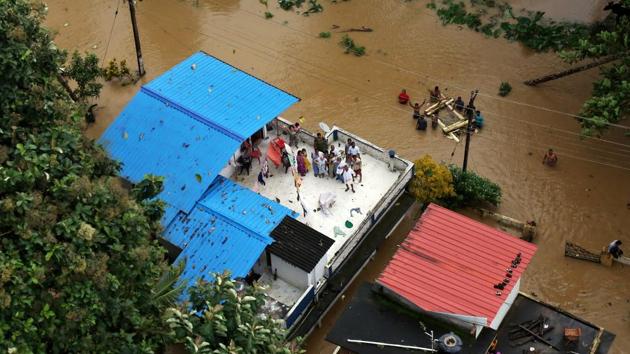 Andhra, Telangana, Punjab, Delhi come forward to assist rain-battered Kerala in its hour of need
While Telangana announced the highest financial assistance of Rs 25 crore, Delhi and Punjab promised aid to the tune of Rs 10 crore each. Even cash-strapped Andhra Pradesh offered Rs 5 crore.
UPDATED ON AUG 17, 2018 11:41 PM IST
Four states have come forward to help rain-battered Kerala in its hour of need, with Telangana topping the list in terms of generosity.
While Telangana chief minister K Chandrasekhar Rao announced monetary aid of Rs 25 crore for Kerala, Punjab and Delhi premiers Amarinder Singh and Arvind Kejriwal announced immediate assistance to the tune of Rs 10 crore each. Andhra Pradesh chief minister N Chandrababu Naidu, for his part, announced financial aid of up to Rs 5 crore.
Rao, who had reviewed the situation in Kerala, felt that it was the responsibility of his government to provide monetary assistance to the state on humanitarian grounds. He has directed chief secretary SK Joshi to immediately donate Rs 25 crore to the Kerala chief minister's relief fund on the behalf of the Telangana government.
The chief minister also directed that reverse osmosis apparatus worth Rs 2 crore be sent to Kerala to purify drinking water contaminated by floodwater. He called upon industrialists, IT companies, commercial establishments and residents of Telangana to liberally donate to the relief fund.
"Our government is ready to extend all possible help to Kerala in whatever form it requires," Rao said.
Announcing his state's donation of Rs 10 crore, Amarinder Singh said that Rs 5 crore would be transferred from the Punjab chief minister's relief fund and the other half would be provided in the form of ready-to-eat food material and other supplies. "The first Air Force sortie is expected to take off tomorrow to deliver 30 tonnes of ready-to-eat food, such as biscuits, rusk, bottled water and milk powder, to the flood-hit state. About one lakh food packets are to be sent in the first consignment. The remaining will be dispatched as and when requisitioned by the Kerala government," it said on Friday.
The Delhi chief minister also announced the donation of a similar amount, and appealed to the public to contribute generously to the crisis-hit state. "Spoke to Kerala CM. Delhi govt is making a contribution of Rs 10 cr. I sincerely appeal to everyone to donate generously to our brothers and sisters in Kerala," Kejriwal tweeted.
Chandrababu Naidu announced a cash relief of Rs 5 crore to Kerala, besides other material, after holding a review meeting on the flood situation there. He also asked the residents of Andhra Pradesh to donate liberally to the Kerala chief minister's relief fund, and posted a link for people to send cash donations on his Twitter account.
As many as 173 people have been killed since August 8 in the deadliest deluge to hit Kerala in close to a century. It has dealt a body blow to the scenic state, wrecking its tourism industry, destroying standing crops in thousands of hectares, and wrecking infrastructure worth crores of rupees. Over 105 people died on Thursday itself, even as hospitals faced oxygen shortage and fuel stations ran dry.
(With PTI inputs)
Close