Anti-Sterlite protests: Death toll rises to 13, govt wants plant shut
Updated on May 24, 2018 08:32 PM IST
The new district collector of Thoothukudi said that the Tamil Nadu government doesn't want the Sterlite Copper plant to run.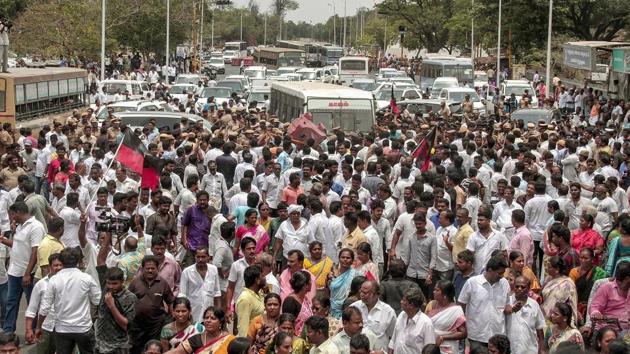 Thoothukudi city in southern Tamil Nadu shut down on Thursday as one more person injured in police firing during protests against a copper smelting plant died, taking the toll to 13 and prompting the state government to say it wants the factory closed.
A man called Selvasekar succumbed to his injuries in a district hospital. Police killed 11 people on Tuesday when they fired on protesters marching against the Vedanta Resources-run Sterlite Copper plant allegedly attacked government offices, threw stones and burnt vehicles. Another person was killed on Wednesday in fresh firing while hundreds of injured were admitted to hospitals.
Shops closed and people stayed indoors in Thoothukudi and demonstrations against the police firing were held in Erode, Ramanathapuram and Thiruvarur districts. Police stepped up patrolling to stop people from forming groups in public places in Thoothukudi and internet connection remained shut, reported news agency IANS.
"The government's position is very clear, it doesn't want the plant to run," said Sandeep Nanduri, the new district collector of Thoothukudi, after a meeting with senior state government officials.
The government filed cases opposition leaders MK Stalin, Vaiko, and Kamal Haasan for defying its orders on Wednesday by visiting a Tuticorin hospital treating people injured in the police firing.
DMK leader Stalin held a sit-in protest at Fort St George, the state secretariat, before being security personnel removed him and Chief minister Edappadi K Palaniswami blamed opposition parties for the violence in Thoothukudi.
"This time around it (protest) turned violent. It was due to instigation by some political parties and owing to infiltration by anti-social elements," said Palaniswamy.
The Tamil Nadu State Pollution Control Board cut the power to the smelter, saying it was found last week to be carrying out activity to resume production without permission.
Residents and environmental activists say emissions from the plant, India's second biggest, are polluting the air and water, affecting people's health.
The plant has been shut for more than 50 days and had been ordered to stay closed until at least June 6, pending environmental clearances.
Vedanta chairman Anil Agarwal called the deaths "unfortunate". "I am totally committed for the community, people at large, and with their wish, and with their prosperity we would like to continue this business," he said in a video posted on Twitter.
(With inputs from PTI, IANS and Reuters.)
Personalise your news feed. Follow trending topics