Samajwadi Party seeks seats in three other states for UP pact with Congress
Oct 01, 2018 08:53 AM IST
In mid-September, senior leaders from the Congress and the Samajwadi Party met to discuss the modalities of a possible alliance.
The Samajwadi Party (SP) is looking to impose new conditions on the Congress for a crucial Opposition alliance in Uttar Pradesh ahead of next year's Lok Sabha elections, even as senior leaders from both sides are in touch to hammer out differences.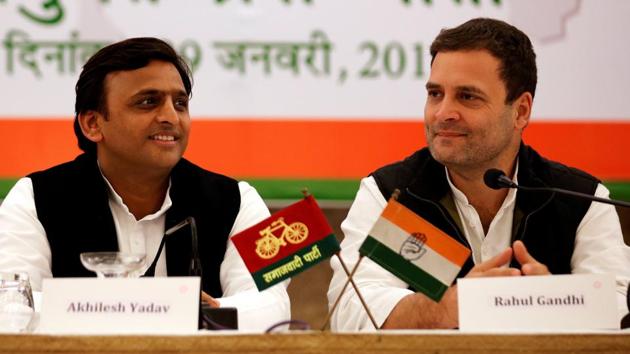 On Sunday, senior SP leaders indicated that the party's rank and file wants seats from the Congress in the assembly poll-bound states of Rajasthan, Madhya Pradesh and Chhattisgarh in exchange for a pact in UP, where the party already has an alliance with the Bahujan Samaj Party (BSP). "After fighting against each other in these states, an alliance only for UP would look absurd," SP general secretary Kiranmay Nanda told HT on Sunday.
HT had reported on June 6 that the SP wants to spread its wings in three other Hindi-belt states of Madhya Pradesh, Rajasthan and Chhattisgarh. Assembly polls in these three states are due next month.
Earlier the BSP, too, demanded a pan-India pact with the Congress as the two sides were negotiating alliances in the poll-bound states. Party chief Mayawati eventually picked Ajit Jogi's Janata Congress Chhattisgarh over the Congress in Chhattisgarh, and has announced candidates for 22 seats in Madhya Pradesh. Congress leaders, however, have not given up hopes of a wider alliance with the BSP.
Leaders from the SP and the Congress also maintain that they are hoping to hammer out a deal in the coming weeks.
In mid-September, senior leaders from the Congress and the SP met to discuss the modalities of a possible alliance. A Congress functionary said that the talks did not yield desired result as the SP is "wary about the caste equations and distribution of seats".
Another senior Congress leader added that party president Rahul Gandhi and senior party leaders such as Ghulam Nabi Azad and Salman Khurshid have been discussing the modalities of an SP-BSP-Congress pact in the country's most populous state.
Talking to reporters in Madhya Pradesh's Shahdol on Saturday evening, former UP chief minister Akhilesh Yadav, who has replaced his father Mulayam Singh as the party chief, put the onus of stitching together a deal on the Congress. "It is the responsibility of the Congress to see how the people with similar ideology can come together."
On Sunday, Nanda said that the SP has as a strong foothold in some areas of the poll-bound states. "If you (Congress) want unity, it has to be other states too where we want to have a share in the alliance. Unity can't be a one-way traffic that will happen on in UP at the convenience of the Congress," he quipped.
Senior Congress leader PL Punia said that the Congress wants to bring together all Opposition parties to fight against the BJP. "But it doesn't mean that if we are left alone, we are a spent force. Please remember, that in 2009 Congress didn't have any alliance yet managed to win 23 seats while the SP won 21 and BSP got 20 seats," he said. Punia, a Rajya Sabha MP from UP, is looking after Chhattisgarh affairs for the party.
Another senior Congress functionary, who asked not to be named, added: "What SP leaders are saying is nothing but posturing amid talks. These issues will finally have no reflection when the parties decide to go for an alliance."
Neelanjan Sircar of the Centre for Policy Research said a tie-up in other states may help the SP. "As the Samajwadi Party cares only about Uttar Pradesh, they don't care much about Congress. Their strength in UP, however, has given them a big bargaining chip with Congress. A tie-up in other states may help the SP get a few more seats. On the other hand, they don't have much to lose if Congress doesn't have an alliance with them in UP," he said.