At annual Brics summit, India will push members to define terrorism
Jun 05, 2018 07:31 AM IST
It will be a major victory for India if it manages to push Brics members to define terrorism and reflect New Delhi's concerns on cross-border terror.
India will push fellow Brics members to define terrorism and reflect its concerns over cross-border terror when their leaders, including Prime Minister Narendra Modi, gather for their annual summit in Johannesburg in July, officials familiar with the matter said on Monday.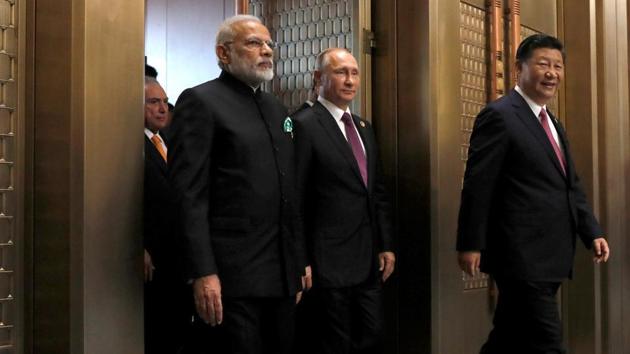 If India manages to achieve the twin objectives at the Brazil, Russia, India, China and South Africa grouping, it will be a major victory for the country after the United Nations and United States designated the Pakistan-based Lashkar-e-Taiba and Jaish-e-Mohammad as terrorist outfits.
Indian officials had already taken up the matter with their counterparts in the other Brics nations. India's demand had led to "intense discussion which remains inconclusive", diplomats of two member nations said.
The talks will continue as terrorism, Brics vision for UN reforms and de-radicalisation are on the agenda when National Security Advisers (NSAs) of the five nations meet in South Africa from June 21, an official said. NSA Ajit Doval will represent India at the meeting.
Delhi wants the grouping to come out with a definition of terrorism, an Indian official said on condition of anonymity. A mention of cross-border terrorism, which refers to terrorist activities launched against India from Pakistani soil, would be a diplomatic achievement for India.
But getting India's demand reflected in its entirety in a joint statement would not be easy. "The definition of terrorism is not an easy issue. The UN itself is yet to define it. We need to wait and see which way the discussion will progress what we come up with at the end," one of the Brics diplomats mentioned above said, requesting anonymity.
The Brics leaders have asked for discussions on the UN convention on counter-terrorism, which includes defining terrorism, to complete soon, a second Indian official said.
"We call for expeditious finalisation and adoption of the Comprehensive Convention on International Terrorism (CCIT) by the United Nations General Assembly," Brics leaders said in a joint communiqué last year, without getting into defining terrorism, as sought in the convention.
The group deplored all terrorist attacks worldwide, including those on Brics members, and condemned terrorism in all its forms, the statement said. Those responsible for committing, organising, or supporting terrorist acts must be held accountable, said the statement, reflecting the Brics line on terrorism.
Proposed by India, CCIT intends to define terrorism, criminalise all forms of terrorism and deny funds to terror groups.
The closest Brics came to mentioning cross-border terrorism was again in the 2017 communiqué , saying it was the responsibility of states to counter terrorism. "...we stress the necessity to develop international cooperation, in accordance with the principles of international law, including that of sovereign equality of states and non-interference in their internal affairs."
The UN's failure to define terrorism worries India. Addressing the Indian diaspora in Brussels in 2016, Modi said, "The United Nations has all means and mechanism to deal with war. But unfortunately the UN does not know what the definition of terrorism is and how to address it."